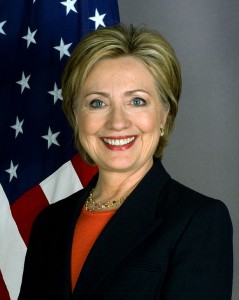 Hillary Clinton and Jeb Bush are the early presidential favorites among PA voters for 2016 according to a new RMU poll.
The Robert Morris University polling institute recently conducted a poll for the Pittsburgh Tribune-Review which tested, among other things, which potential 2016 presidential candidate Pennsylvania Democrats and Republicans support.
Former Secretary of State Hillary Clinton holds a large lead among the commonwealth's Democrats with 66.5% of support. Vice President Joe Biden finishes a distant second place with 21.2%.
Despite all the recent controversy over Clinton's actions in response to the terrorist attacks in Benghazi, her percentage actually slightly increased from the last time RMU asked this question in February, when she was at 65.7%. On the other hand, Biden saw his support drop nearly five points from his February total of 26%.
In the Republican primary, former Florida Governor Jeb Bush saw significant growth over the last three months climbing from 20.8% to 33.3% of support. According to RMU political scientist Philip Harold, most of these gains came at the expense of Kentucky Sen. Rand Paul.
"The big story for national politics is the change in presidential candidate preferences for Pennsylvania Republican likely voters," Harold said. "Jeb Bush saw the biggest gains, while Rand Paul was the only major candidate to lose support."
Bush and Paul switched spots — Bush was the fourth preference of likely Pennsylvania Republican voters in February, and he jumped to first, Paul was in first and now has fallen to fourth," he continued.
The Poll sampled opinions of 506 Pennsylvania residents statewide. The survey was conducted May 6-13, 2014. All surveys were conducted using an online survey instrument. The poll has a +/- 4.5 percent margin of error at a 95 percent confidence level on a composite basis.