RNC Chair Touts Trump Economy At Philly Roundtable Event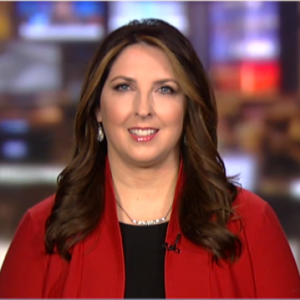 The Republican National Committee and the Trump Victory campaign have been touting President Donald Trump's economic message in their "Open for Business" tour that launched earlier this month. 
On Wednesday, RNC Chair Ronna McDaniel joined Pennsylvania Republican Party Chair Lawrence Tabas and Trump 2020 Campaign Chair for Pennsylvania Bernie Comfort at a roundtable event with small business owners in Philadelphia. 
"Everywhere I'm going right now I take note of the help wanted signs, the open for business signs, the we're looking for employees. When I started to look at windows and see people who are looking for workers everywhere we travel, it's because of this President and the economy," McDaniel said in a release from the event. "It is historic what's happening under this President with deregulation, with the tax policies."
McDaniel also specifically pointed to the current unemployment rate in the state at 3.9% as proof that Trump's policies are working for Pennsylvania workers. 
Pennsylvania is one of the 17 targeted states across the country in the "Open for Business" tour. 
Tabas echoed the sentiments from McDaniel by saying the economy is in better shape due to Trump's policies. 
"One thing that is clear is that the President's economic policies he promised have made Pennsylvania clearly a state that can say, 'We are open for business," Tabas said in a release from the event. 
He also cited the unemployment rate, while boasting about the increase in manufacturing jobs in the state as well. 
This was the second and final visit from the "Open for Business" tour in the state, following a stop in Pittsburgh earlier this month that coupled with a "Women for Trump" event. 
Although the tour doesn't have anymore planned stops in Pennsylvania, they have also committed to a digital ad buy that is still ongoing in the state. 
The RNC and Trump Victory "Open for Business" tour ad buy in the 17 states targeted is six-figures and was launched on Aug 19. A spokesperson from Trump Victory stressed the importance of spreading their message in Pennsylvania through the ads, which is running primary on Google and Facebook. The ads are running and placed in areas determined by where their voter score data tells them, including the Pittsburgh market.
Trump boasted about his economic policies earlier this month in Beaver County at an ethane cracker plant, which was billed as an official White House event. During that speech, he attempted to take credit for the plant saying it "would have never happened without me and us" although Shell announced plans to build the complex in 2012 and the company proceeding to go forward with their plans in June 2016, according to the AP. 
In response to Trump boosting his economic record, the Pennsylvania Democratic Party and the DNC claimed that Trump had broken his promises to Pennsylvanians. Pennsylvania Democratic Chairwoman Nancy Patton Mills called Trump a "fool" for gloating about his record on the plant being built, while a powerplant in the same county announced it was shutting down in 2021. 
The DNC's comments accused Trump of trying to "distract and confuse" Pennsylvanians and called out his positions on healthcare and tax reform during Trump's most recent visit in the state.
PoliticsPA is seeking comment from the Pennsylvania Democratic Party on the Wednesday roundtable event with Comfort, McDaniel, and Tabas.