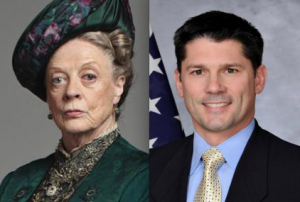 Bucks County Commissioner Robert Loughery – sometimes mentioned as a possible congressional candidate in 2016 – revealed a bit of his TV viewing habits at a meeting this week.
Loughery, the Chair and one of two Republican Commissioners, spoke to Democratic minority Commissioner Diane Marseglia.
The Bucks County Courier Times reported the full conversation:
"I watched 'Downton Abbey' last night," Loughery told her. "You could be like our 'dowager countess?'"

Marseglia laughed, smiled politely and responded curtly. "I'd really be careful there," she told the board chairman.

And not wanting to bungle his first commissioners meeting of 2013, Loughery at once offered Marseglia yet another title. "I meant to say 'duchess.'" 

No such duchess is prominently featured on the PBS drama.

The dowager countess Violet Grantham, portrayed by actress Maggie Smith, is characterized by PBS as an "immensely insufferable" matriarch who "does not cease to surprise those around her with her sometimes meddling, but often wise, counsel."
The friendly banter between Loughery, elected in 2011, and Marseglia, first elected to the Board in 2007, illustrated a key difference between them: Marseglia has never watched 'Downton Abbey.'
It's unlikely to be an issue even if, as is possible, both square off again for another office in the future.
Marseglia has been listed as a possible candidate for Congress in PA-8, either as a challenger to Rep. Mike Fitzpatrick (R-Bucks) in 2014 or when Fitzpatrick steps down in 2016. If she's on the ballot In four years, she may face Loughery – seen by many as a natural successor to Fitzpatrick who also served as Commissioner during his first run at the House.
Fitzpatrick has said he would not run for re-election in 2016.