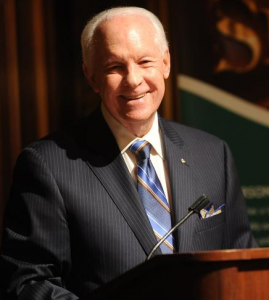 After serving the last eight years as Chairman of the Allegheny County GOP Committee, Jim Roddey is stepping aside to "slow down a bit."
Roddey served as the first Executive of Allegheny County from 2000-2004. He took over the committee in 2008 and has almost tripled its membership from 352 Republicans.
"I never like to leave anything when things aren't positive, and I think we are in a good place right now," Roddey told Salena Zito of the Tribune Review.
The 83-year-old will continue as a member of the state GOP committee and its leadership committee. Roddey will also work on Sen. Pat Toomey's re-election bid, as well as Florida Sen. Marco Rubio's presidential campaign.
The county committee will have 10 days to name a replacement, and that replacement will finish the remaining 3 months of Roddey's term. D. Raja, of Mt. Lebanon, has announced he is seeking the position.
Allegheny County has the largest GOP population in the state, with almost 235,000 Republicans.