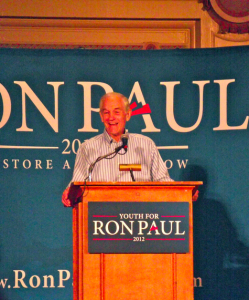 Pittsburgh — Days before Pennsylvanians head to the polls to vote in the primary, Texas Rep. Ron Paul held a rally at Soldiers and Sailors Hall in Pittsburgh.  His passionate supporters packed the auditorium, where there was standing room only.
The event took place on the University of Pittsburgh campus. It was publicized as a youth rally, although people of all ages were on hand with signs, in costumes, and ready to chant and cheer.  It didn't feel like a presidential campaign speech, but more of a speech promoting his movement for personal liberty.  He played to the energized crowd, saying how encouraging it was to see so many young people helping the "growing revolution."
The first thing Paul talked about was the need to end the Federal Reserve system, one of his biggest campaign themes.  "Monetary policy and the Fed is one of the big issues of the campaign," he said, which resulted in a chant from the crowd of "End the Fed!" Like he has done in many previous speeches and debates, Paul proposed repealing the Fed altogether.
His foreign policy is another point he has frequently brought up, and is one of the positions on which he differs most from the mainstream Republican party.  He received long rounds of applause and cheers when he said we need to bring our troops home and to "defend our country and not be the policemen of the world."
"We should all have equal protection under the laws," he said at one point while discussing personal liberty.  One simple way to start to do that, he said, is to get rid of all drug laws because they unfairly punish the poor and minorities.  Reiterating his major theme, Paul said that he does not endorse using drugs, but people should decide for themselves.  He also pointed to the hypocrisy in people who are staunch advocates for "states' rights" but want the national government to step in to regulate things such as drug laws.
One of the only times during which he sounded like he was actually campaigning for the presidency was when he was discussing his deficit reduction plan, which he says would cut spending by $1 trillion in the first year and balance the budget by the end of his first term.  Contrary to what some people have argued, he said, drastically cutting spending "wouldn't cause an economic crisis."
His message resonated with those who listened to the speech, with one attendant saying quite simply, "He's the best… he's just the best."  Added another, "His ideas make the most sense."
"The Revolution is alive and well," Paul ended with, which was evident by the number and enthusiasm of supporters in attendance.
Paul's presidential strategy – amassing delegates where possible in hopes of a brokered convention – were likely dealt a fatal blow when former Pa. Senator Rick Santorum withdrew from the race. Frontrunner Mitt Romney is on track to win enough delegates to become the nominee.