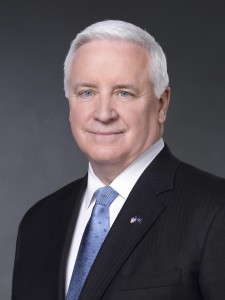 More doubt over Gov. Tom Corbett's 2014 re-election chances: the Rothenberg Political Report changed its prediction of PA's gubernatorial race from 'Pure Tossup' to 'Tossup/Tilts Democratic.'
Stu Rothenberg is the second national political observer to make such a change, following Larry Sabato in late June.
"It's not very often that the party out of power encourages the incumbent to seek re-election, but that's the case in Pennsylvania," Nathan Gonzales wrote in the Rothenberg column for CQ Roll Call.
"Republican Gov. Tom Corbett's polling numbers have sagged to the point where Democrats are excited about their opportunity but nervous he will retire, thereby allowing state Republicans to find a potentially stronger nominee."
Rothenberg made the change in part as a response to a month-old Quinnipiac poll showing Corbett losing to his challengers in the Democratic Party by double digits. Corbett's job approval rating was negative, with disapproval were at 48% and approval at 35%.
The wide Democratic field of potential challengers is happy about continuous polling data that show the beleaguered Republican's numbers remaining low. June's budget session brought tough scrutiny on Corbett following the legislature's failure to pass any of the Governor's three policy priorities.
Stuart Rothenberg is the editor of the Rothenberg Political report, a bi-weekly newsletter for political analysis. Rothenberg also frequently comments for CBS and the Political Wire. He briefly taught at Bucknell University in Lewisburg, Pa.