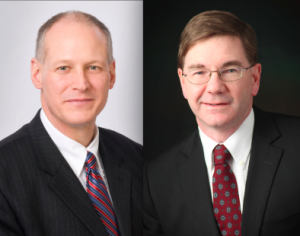 Republican Keith Rothfus lashed out at incumbent Rep. Mark Critz (D-Cambria) for attempting to score political points Wednesday when Critz voted to extend tax cuts across the board, but subsequently voted on an amendment to exempt earners making $1M or more from the extension.
"Mark Critz's innate ability to support conflicting sides on the same issue would make John Kerry jealous," Rothfus said in a campaign press release.
"Mr. Critz's decision to stand with his Democrat leaders and vote to recommit this bill would have sent it to the legislative graveyard and cost western Pennsylvania a much needed economic shot in the arm."
Critz spokesman Mike Mikus said Rothfus's "bizarre" attack shows their growing desperation.
"The voters are rejecting Keith Rothfus because he supports outsourcing jobs to China and India and forcing seniors to pay $6,400 more for their healthcare…Even Keith Rothfus says in his own press release that Mark Critz voted to extend middle class tax cuts," Mikus said in an email.
"The false attacks coming from Keith Rothfus won't change the fact that Mark Critz is fighting to create jobs for the middle class while Rothfus supports…a budget that will end Medicare as we know it."
The amendment proposed by the Democrats came after House Republicans passed H.R. 8, which extended tax cuts initiated under former President George W. Bush.
In addition to exempting millionaires from the tax cut extension, the Dems' amendment included tax credits for small businesses.
Although Democrats championed their proposed amendment as beneficial toward middle class families and small business, Rothfus – citing an independent study by the Heritage Foundation – said the amendment would've cost middle class families an average of $4,100 a year.
In response, Democrats have accused Republicans of pandering to the wealthiest members of society as well as continuing failed tax policies of the past. Rep. Bill Pascarell (D-N.J.) told The Huffington Post that the latest cuts continue a Republican-led attack on the middle class.
"To those members concerned with tax fairness, today, wealth concentrated with the top 1 percent is at the same level as the period immediately preceding the Great Depression," Pascrell said.
"So you shrunk the middle class with your great economic ideas between 2001 and 2008, and what you did, what you did is made the rich richer. I salute you."