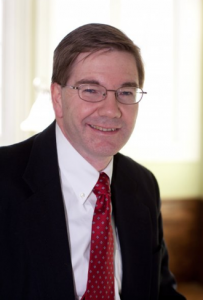 Just a few minutes after 3:30 p.m., PA-12 GOP candidate Keith Rothfus took to the podium at the RNC to deliver a speech about his own battle with cancer and the need to repeal Obamacare.
A transcript of the remarks has Rothfus opening his speech by saying that health care and Medicare are important issues that will get a lot of play in this election – "and that's a good thing," Rothfus said.
He also stressed the importance of patients and their relationship with the doctors who treat them.
"Having developed and survived a very rare form of cancer that kills 75 percent of its victims within five years, I know all too well the importance of a healthcare system that empowers the doctor-patient relationship, and respects the decisions of the family."
That is why, Rothfus said, there is "no greater threat to the health care of our nation" and senior citizens than Obamacare.
He said that the first path to saving Medicare is repealing the President's healthcare plan.
"My district, Pennsylvania-12, has one of the largest concentrations of Medicare populations in the entire country. My opponent, Congressman Critz, voted over 20 times to support Obamacare, including voting against the repeal of the Independent Payment Advisory Board, which empowers not doctors and patients, but bureaucrats in Washington, D.C."
Rep. Mark Critz's (D-Cambria) campaign spokesperson Mike Mikus said that Rothfus' speech neglects to mention the shortcomings of the Republicans' health care plan, which he said would turn Medicare into a voucher system and lead to increased costs for seniors.
Mikus added that Critz received the Social Security and Medicare Hero Award from the Alliance for Retired Americans, and sponsored legislation that prohibits funds to be spent on developing or implementing a system that cuts Medicare benefits, eliminates guaranteed health coverage for seniors or creates a voucher plan.
"Today's speech is further proof that Keith Rothfus wants to end Medicare as we know it by turning Medicare into a voucher program," Mikus said.
"Mark Critz has been recognized for his work to prevent the dismantling of Medicare and cuts to benefits, Keith Rothfus is proudly promoting his plan to end Medicare and force seniors to pay more so he can cut taxes for the wealthy. That is the difference in this race."
Rothfus ended his speech by saying that the Romney-Ryan-Rothfus is the only presidential ticket that will ensure the survival of Medicare for today's seniors and the program's future recipients.
"To repeal, to replace, to restore – vote Romney-Ryan, and – in western Pennsylvania – Rothfus. Thank you, and God bless America."