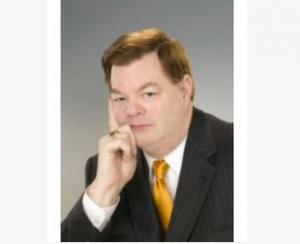 Rep. Keith Rothfus may not be the only Republican on the ballot in 2014. Marine Corps veteran and businessman Larry Stiles says he plans to primary the freshman Republican Congressman.
Stiles' complaint: Rothfus is too conservative.
"He voted against the flood bill," Stiles said, referring to Rothfus' vote against a relief appropriations bill for those affected Hurricane Sandy. "I find it disappointing, especially given that he represents Johnstown, the Flood City."
Stiles, 63, is retired and resides in Johnstown with his wife. He served in the U.S. Marine Corps in Vietnam from 1968 to 1975, though he says he is not a combat veteran. He cites veterans issues – particularly veterans' health care – as his top issue.
His candidacy was first reported by Keystone Politics.
A supporter of Republicans like Ronald Reagan and George Bush, and Democrats like former Congressmen Jack Murtha and Mark Critz, Stiles calls himself a centrist.
"I would be considered more to the center than the left or the right. When you represent a district in Congress, you have to be in the middle," he said.
Rothfus entered politics during the Tea Party wave of 2010 and in his first few months in office has emerged as one the most conservative members in the House of Representatives. PoliticsPA is seeking comment from his campaign.
He filed with the Federal Elections Commission Tuesday to create his campaign committee. His website is coming soon.
Democrat Erin McClelland has also announced a bid against Rothfus, who defeated Rep. Mark Critz (D-Cambria) in 2012.
Stiles acknowledged that he is a longshot against the sure-to-be-well-funded Rothfus. He emphasized his experience with grassroots campaigns, and said he looked at the campaign through the same lens as his recent leukemia diagnosis: "I'll keep fighting, I'll keep working," he said.
But his political history in the district is complicated, as is his personal history. In 2010, he was ousted as volunteer campaign manager for Bill Russell, the Republican challenging Rep. Murtha.
The Johnstown Tribune-Democrat reported at the time that Stiles was AWOL during his time in the service and spent time in a military jail. He claimed to manage a company that at that time was not registered with the state. During a public battle with Russell, Stiles fabricated a public relations company and sent press releases.
From the Tribune-Democrat:
Stiles contends he unexpectedly was asked to leave the campaign to make way for Luksik. He also alleges that Russell made a disparaging comment about Stiles being a diabetic.

Stiles issued a news release regarding that comment in late February, calling for an "immediate apology" from Russell.

That release purportedly was from "Michaels Foresman, a Chicago-based public relations firm."

And it included a quote from John Foresman, who was identified as that company's chief operating officer.

The company could not be located, and Stiles admitted that he, in fact, is John Foresman. A toll-free phone contact listed on the release is Stiles' number.

Stiles claims he created the Foresman alias in an attempt to discover who was spreading rumors about him on the Internet. But he could not explain why he sent a false news release to media outlets, including The Tribune-Democrat.