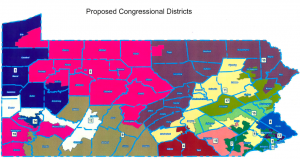 Rep. Mike Kelly
"Our state legislators have been going through an arduous redistricting process to re-draw the Commonwealth's congressional districts, which were reapportioned from 19 to 18 seats as a result of Pennsylvania's population loss. Under the new map that the State Senate and House will vote on soon, the Third Congressional District will lose territory in Warren, Venango, and East and South Erie Counties, which I have had the great privilege of representing for the past 11 months, and which I will continue to dutifully serve for the remainder of my first term. Despite these changes, residents of the current Third District can rest assured that the level of constituent service from me and my staff will remain strong over the next year.
"As I have said repeatedly, it has been an honor to represent the Third District in its current form, and I'm sad that, beyond 2012, I will not be able to continue to represent parts of the district as we know it today.
"Next year, as I start my re-election campaign, I will begin to get to know the residents of the re-drawn Third District, which will include new areas within Crawford, Mercer, Butler, and Armstrong Counties, and will add, for the first time, parts of Lawrence and Clarion Counties, as well.
"I look forward to seeing both new and familiar faces as I travel throughout Northwestern Pennsylvania to communicate my plans to put America back on a path to prosperity and to help get Americans back to work."
Rep. Tim Murphy
"Pennsylvania's new 18th district tracks very closely to the current 18th so Congressman Murphy is thrilled for the opportunity to continue working for his constituents in Congress and is ready to start building the same strong relationships within new communities in Washington and Greene. When first elected, he promised to be the most visible and hardworking congressman the region has ever seen and he'll bring that same dedication and record of putting constituents first to each city, township, and borough in the new areas of his district."
Rep. Jason Altmire
"I think its fair and I think its favorable for me, so I don't have a problem with the way it was drawn," he said. "I'm not happy about being in the same district as my friend and somebody that I campaigned for and have worked with, and that I respect and like. But again if you assume that that's the outcome that was unavoidable, the way that its drawn I think is fair."
Rep.  Mark Critz
"I have been honored to represent the 12th Congressional District in Congress and I look forward to continuing to represent this district beyond the 2012 election," he said. "The boundaries of my district may have changed, but my priorities remain the same," and, "I look forwarded to a spirited campaign."
Rep. Michael Fitzpatrick
"I am pleased to report that the County of Bucks will remain entirely within the 8th Congressional District.  Bucks County has a nationwide identity and I have worked to make certain that it has remained whole and undivided through the redistricting process.  I want to thank our Bucks County representatives in Harrisburg, especially Senator Chuck McIlhinney, Chairman of the State Government Committee, for their support and hard work."
"As of January 2013, the Indian Valley of Montgomery County will become part of Pennsylvania's 8th Congressional District.  These communities in Montgomery County are contiguous to and have much in common with Bucks County and will be an important addition to the 8th District."
"Finally, I look forward to continuing to work on behalf of the sections of Montgomery County and the City of Philadelphia that have been important parts of the 8th Congressional District."
Rep. Tom Marino
"Although it was inevitable that the 10th Congressional District would change, I regret that I may no longer represent Luzerne, Montour and Wyoming counties where I have made many good friends and have had many enjoyable experiences.
"I do welcome the opportunity to meet residents of Monroe, Mifflin, Juniata and Perry counties.
"No matter how the state Legislature changes the 10th Congressional District, I want to make it clear that it is my job and my intention to continue to work tirelessly to represent the people of the current district through the remainder of the 112th Congress."
Rep. Patrick Meehan
"It is a great honor to represent the current 7th Congressional District, and I will continue to work as hard as I can to create jobs, grow our economy and rein in wasteful spending on behalf of 7th district families.
"I understand that the district needed to gain population and expand, and that is what the state legislature has done. I appreciate how hard it must have been to complete this redistricting process.
"I am disappointed that the new 7th district will no longer include some townships and areas in Delaware, Chester and Montgomery counties that I have worked with for years as U.S Attorney, District Attorney and now as a member of Congress. I have made many new friends during my congressional work, and I look forward to keeping up those friendships.
"At the same time I look forward to getting to know the new parts of the district and its wonderful communities and families. I will work hard to listen to their concerns in these difficult times, and as I have within my current district, I will continue fighting to create and retain jobs in Pennsylvania, grow our economy and bring our fiscal house in order to protect the next generation from a crushing debt."
Rep. Glenn Thompson
"I have the distinct honor and privilege of representing the residents of the Fifth Congressional District and have brought a strong voice for our region of Pennsylvania to Washington.  With national population increases and population changes here in the Commonwealth, some changes in apportionment are inevitable. This process could result in the Fifth District losing communities that have played an integral part of our cultural heritage, and should this happen, I will miss my friends, and the countless hardworking families that I have served for the last three years.
However, I am equally optimistic about any new communities the Fifth District may encapsulate and look forward to providing those residents with the same level of service to those now residing in the Fifth District when the time comes.  As we all wait for the final reapportionment in Harrisburg, I remain dedicated to the hardworking taxpayers I represent and improving the lives of each citizen and every community of the Fifth District."