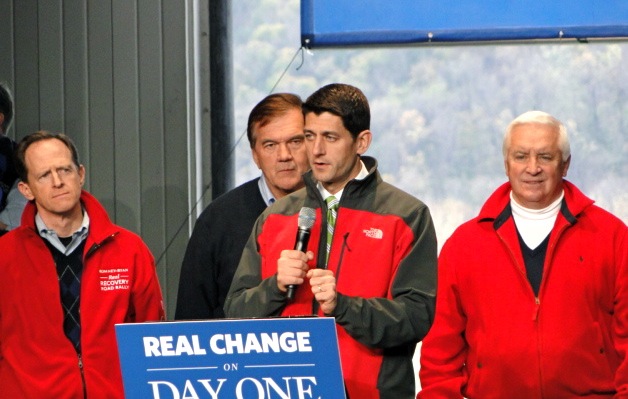 Middletown — Vice Presidential candidate and Wisconsin Congressman Paul Ryan got a hero's welcome from thousands Republican supporters Saturday during a rally at Harrisburg airport.
"We can't afford to wait four more years… we can wait three more days," Ryan said. "We will not duck these tough issues. We're not going to run away from our country's economic and fiscal problems. We're going to run at these problems."
"We're going to take responsibility and clean up this mess in Washington."
A PAGOP spokesperson said the crowd had filled the 2,000 person capacity of the hanger and organizers had to turn others away. Ryan spoke briefly to the overflow crowd before takeoff.
Every Republican in the midstate was there to help introduce Ryan: Governor Tom Corbett, former Governor Tom Ridge, Sen. Pat Toomey, Lieutenant Gov. Jim Cawley, Attorney General hopeful Dave Freed, U.S. Reps. Lou Barletta (R-Luzerne), Charlie Dent (R-Lehigh), Joe Pitts (R-Chester) and soon-to-be Rep. Scott Perry (R-York), State Senate hopeful John McNally and plenty more.
All emphasized the case that Pa. is in play.
"A state that can elect me statewide can elect Governor Romney as President of the United States!" Toomey declared.
"We are the Keystone State to this nation, and we are the keystone state to this election," Corbett said.
Mitt Romney will make that case himself when he visits Bucks County on Sunday.
Democrats, meanwhile, insist that the Keystone State will be the keystone to President Obama's re-election.
"Mitt Romney sent Congressman Ryan to Pennsylvania today on a desperate hunt for a path to 270 electoral votes," said Desiree Peterkin Bell, Obama's Senior Advisor for Communications in Pa. "That's because the states that have actually heard from Romney and Ryan throughout this campaign aren't buying what they're selling. Unfortunately for Romney, showing up three days before the election won't convince Pennsylvanians to go backward either."
That belief is evident in the campaign's schedule. There are fewer big-ticket Democratic rallies Saturday or Sunday. Instead, the President's campaign is focused on its local get out the vote effort. Obama is dispatching former President Clinton for four Pa. events on Monday. Dr. Jill Biden attended several events in southeast Pa. on Saturday.
The only events with big Democratic names Saturday and Sunday are rebuttal press conferences. Today, Rhode Island Governor Lincoln Chafee, U.S. Rep. Allyson Schwartz (D-Montco) and Dauphin Co. Commissioner George Hartwick responded to Ryan; tomorrow's pre-Romney rally will feature Schwartz, former Rep. Patrick Murphy (D-Bucks), congressional hopeful Kathy Boockvar, Planned Parenthood PAC President Cecile Richards and women's rights advocate/15 minutes of fame enjoyer Sandra Fluke.
Ryan's rally was just one of several GOP rallies statewide.
Two of Romney's sons, Tagg and Ben, attended a trio of events in State College, Mechanicsburg and York. The latter two were also attended by Corbett, Cawley and Freed.
Texas Governor (and former Romney rival) Rick Perry held four events in Pa.: a presidential rally in West Chester Friday night, and three Saturday events for GOP Senate hopeful Tom Smith in Wilkes-Barre, Williamsport and State College.
In advance of Perry's visit, Obama's campaign produced the video below; it's a classic example of 'primary opponent attacks used in general election' genre.
http://youtu.be/l9E5y3mWmuI