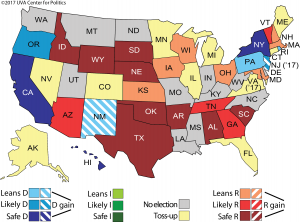 Larry Sabato has released his Crystal Ball ratings for 2018 Governor races.  He rated Pennsylvania as leans Democratic, giving Governor Tom Wolf the early advantage.  
"We've mostly been giving incumbents the benefit of the doubt to start, so this contest begins at Leans Democratic," Geoffrey Skelley and Kyle Kondik wrote in post.  
Wolf broke the almost 60 year trend of the major parties switching the Governorship every eight years when he defeated then Governor Tom Corbett in 2014.  
Wolf is the only Democratic Governor facing re-election in a state Trump won in 2016.  Trump won Pennsylvania by .73%.
Sabato points out that Wolf's "approval is only in the high 30s."  
According to Republican lobbyist Bruce Mehlman, Republicans are overextended nationally.  
From Sabato:
Republicans will be defending nine governorships in states Clinton won — Illinois, Maine, Massachusetts, Maryland, New Hampshire, New Jersey, New Mexico, Nevada, and Vermont — while Democrats will be defending just one governorship in a Trump-won state (Pennsylvania).
Nationally, three states lean Democratic, two states are likely Democratic, two states are safe Democratic, ten states are toss-ups, seven states lean Republican, four states are likely Republican, and nine are safe Republican.