By Keegan Gibson, Managing Editor
Recruiting a top-tier candidate to challenge Senator Bob Casey has been a challenge for Republicans, to say the least.
Name after name has been crossed off the GOP's list (detailed in a Politico piece today). When you add that to Republicans' electoral success last year, you end up with a rather depleted bench.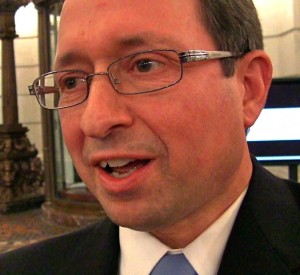 That might open the door for former State Representative and Tea Party favorite Sam Rohrer. Rohrer earned the respect and support of conservatives state wide when he challenged Tom Corbett for the GOP gubernatorial nomination last year.
He's since taken over as State Director of Pennsylvania's Americans for Prosperity (AFP), a conservative group which is strongly linked with the Tea Party movement. Rohrer was in Harrisburg today as part of an AFP press conference responding to Governor Corbett's budget proposal.
In an interview with PoliticsPA, Rohrer said AFP was his top priority. But he would not rule out a challenge to Casey.
"There's an awful lot of people who have said the same thing to me," said Rohrer with a grin when asked about Senate 2012 rumors. "At the moment, I am focusing on the State Directorship of Americans for Prosperity and that's where my intent is going to be at the moment."
"I'm not going to rule out any potential future run for office. That's something that will be dealt with as we approach it."
And, Rohrer said, he maintains contact with the army of supporters that fueled his 2010 campaign.
You can watch the interview here:
Rohrer's strengths are evident, at least in a primary. He earned statewide name recognition among Republicans, especially conservatives, when he played the role of Tea Party outsider running against the establishment last year.
And with no front running GOP contender, someone with Rohrer's name ID and dedicated following of grassroots activists could make a serious run at the 2012 nomination.
Indeed, a facebook group aimed at drafting Rohrer for the race has already been formed.
Jeff Coleman was a senior strategist for Rohrer's insurgent primary campaign against Tom Corbett. He currently works as a consultant to Rohrer and many statewide conservative organizations. He emphasized Rohrer's commitment to the AFP.
"He's focused on building Americans for Prosperity in Pennsylvania. It's critical for that kind of intense focus on these issues – cooperating with the Governor and legislators, but also keeping them accountable," Coleman said.
At the same time, Coleman confirmed that he has heard Rohrer's name as a possible opponent to Casey and emphasized his belief that Rohrer would be a strong candidate.
"When you inspect Sam on social and family values issues, he's consistent. When you flip over to fiscal issues, he holds up better than probably any statewide personality"
"Sam has a better grassroots following than probably anyone in Pennsylvania. He brings in Tea Party conservatives, he brings in pro-family conservatives. In any election, especially in a Republican primary, he would be very formidable."
You can watch Rohrer talk about red meat conservative fiscal issues in the video below, from today's AFP press conference in the Capitol rotunda.