By Ali Carey, Contributing Writer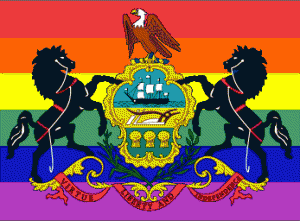 Just last week a Franklin & Marshall College Poll, conducted for the Daily News among other statewide media outlets, found that exactly 50 percent of Pennsylvanians either strongly or somewhat support a constitutional amendment to allow same-sex marriage, a whopping 42 percent increase since 2009.
So does this mean we can expect to see gay marriage in PA sometime soon?
Who better to discuss this hot issue with then the owner of Philadelphia Gay News, Mark Segal, as well as the Vice President for Policy of the Pennsylvania Family Institute, Tom Shaheen?
Segal's personal journey as a gay rights activist began in 1971 and he has been the proud owner of Philadelphia Gay News since its inception 35 years ago.  He boasts that it is the longest operating LGBT publication and the most award winning.  He writes a weekly column for Philadelphia Gay News as well as many other publications.
The Pennsylvania Family Institute is a non-profit research and education organization, based in Harrisburg, that focuses on policies and cultural trends at the state level which impact families.  The organization works with with pro-life, pro-family legislative and grassroots leaders to help defeat "anti-family" legislation.
According to Segal, the gay community is "pleased but not surprised" by the results of the recent poll.  He believes PA voters are generally very compassionate, reasonable people.  He argues that as more voters begin to see that a constitutional amendment legalizing gay marriage would not undermine heterosexual marriage, they become increasingly open to the new legislation.
Segal believes that the reason gay marriage hasn't been legalized yet is simply due to fear, but as people become more educated on the issue the, "fear factor that has been prevalent in the Republican party dissipates."
"Once they know the facts they will see that gay marriage doesn't change their religion in any way," said Segal.
"The numbers have been increasingly improving as Pennsylvanians get to know the gay community.  I am hopeful that our elected officials will begin to take these issues seriously."
Sheehan interpreted the results of the latest poll quite differently.  He emphasized that the poll included two related questions as a part of a larger survey.  He argued that the question pertaining to civil unions "at best shows a slight majority favoring civil unions."
According to Sheehan the question failed to accurately describe a civil union.  "In other states like New Jersey, Connecticut and Vermont it's the same as marriage."
Sheehan believes that "people generally want to be fair-minded,", however he underscored that the description of a civil union in the survey question was an "entirely different entity" than what a civil union actually is.
Like Segal, Sheehan agreed that voters need to become more educated on the issue of gay marriage and civil unions.  He referenced New Jersey's Civil Union Act which passed back in 2006 requiring its legislature to substitute over 1200 instances of marital terms for civil union ones.
Sheehan strongly supports keeping the PA constitution the way it is.  He doesn't believe the results of the latest poll are a true indication of the direction of legislation in the commonwealth and he is hopeful that next legislature will support their "pro-family" cause.
At the end of the day, gay marriage probably isn't right around the corner in Pennsylvania. Segal isn't holding his breath – instead he believes a non-discrimination bill is more important than passing a marriage equality bill.  He maintains that practically every major county in PA supports some form of a discrimination bill and it's the state that's lagging behind.
However, Segal is still excited to see the direction the population is leading its elected officials in.
"We want to work with these elected officials and bring them on board so that every person's job in PA is secure."