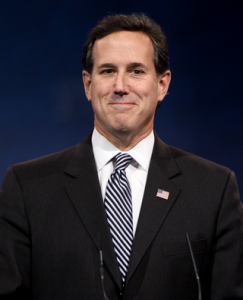 Rick Santorum is running for President. Again.
In fact, so many people were assuming the former PA Senator and 2012 runner-up would give it another shot that Santorum didn't even really declare, giving the impression that his campaign never really stopped.
Instead, the candidate laid out his strategy in an interview with Karen Tumulty of the Washington Post, pointing out his advantages and identifying changes he'll have to make from four years ago.
"I get the game," Santorum asserted.
"Part of what I had to do last time was lay out my bona fides [on moral and social issues]" he continued. "That's done."
Now, the former Senator wants to pivot to economic issues.
"I don't think I've met a 'suit' yet," Santorum told Tumulty concerning his countrywide travels  since 2012. "It's very much heart of America, average Americans who have found a place where they see someone who will stand up and fight for them. If the Republican Party has a future — and I sometimes question if it does — it's in middle America. It's not in corporate America."
With a deeper, and many have argued, better field than in 2012 it will be difficult for Santorum to break through a second time. Still he's not deterred.
"America loves an underdog," he said. "We're definitely the underdog in this race."