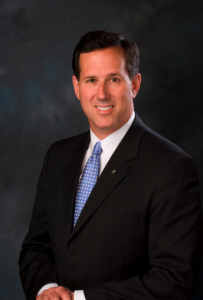 Former Pennsylvania Senator and presidential candidate Rick Santorum will the keynote speaker at the Franklin County Republican Party's fall dinner later this month. There, he'll try to rally the party base for election day a week later.
During the presidential primary, Santorum was one of Mitt Romney's staunchest critics, particularly on the Romney devised health care plan that inspired the Affordable Care Act.  However, by the time the convention came, the fight was over, and Santorum released his delegates to his opponent.
Since the primary, Santorum has continued to work to further the goals of the Republican party, forming Patriot Voices, a super PAC dedicated to promoting conservative values during the election.  He was also a major speaker at the Republican National Convention, and his presence at the Dwight D. Eisenhower dinner will help continue his efforts to present his party as a united front.
It continues a banner year for the Franklin Co. GOP. During his primary bid in May, it was Romney who spoke at the party's dinner.
Since his 2006 re-election defeat at the hands of Bob Casey, Santorum has taken heat over the fact that his family lives in Virginia. He officially changed his residency to that state at the outset of his presidential bid.
The dinner is to take place at the Green Grove Gardens Events Center in Greencastle, PA at 7 PM on Monday, 29 October, 2012.  Tickets are $50 for adults, and $25 for young people 18 and under. Tables of eight are $400.