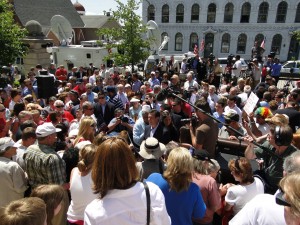 Lowman Henry and the Pennsylvania Leadership Conference is getting a visit from an old friend. Former Sen. Rick Santorum, hot off of his wins in Alabama in Mississippi, will speak at the conference in Harrisburg on March 24.
The PLC is an annual meeting of movement conservatives in Pa. – Santorum's home crowd. However, these are many of the activists who supported Pat Toomey in the 2004 primary versus Arlen Specter. It should provide a glimpse of how solid Santorum's support is in Pa.
And now that it's clear that the presidential primary is coming to Pa., don't be surprised to see some of the other contenders join the guest list.
Here's the announcement:
Rick Santorum to Address 2012 PA Leadership Conference
Joins Brit Hume, Herman Cain, Pat Toomey, Jim Cawley, Ann McElhinney,
Grover Norquist & John Gizzi as featured speakers
Harrisburg, PA – The campaign for the Republican Presidential nomination will come to Pennsylvania on Saturday, March 24th when former United State Senator Rick Santorum will address the 2012 Pennsylvania Leadership Conference. The premiere annual gathering of conservative activists each year will be held March 23rd and 24th at the Radisson Penn Harris Convention Center in Camp Hill.
Senator Santorum is the latest addition to a growing program of activities planned for the 2012 Pennsylvania Leadership Conference. This year's keynote address will be delivered by Fox News Senior Political Analyst Brit Hume. Also scheduled to speak are former Presidential candidate Herman Cain, film producer Ann McElhinney, U.S. Senator Pat Toomey, Lt. Governor Jim Cawley, Grover Norquist from Americans for Tax Reform and Human Events White House correspondent and political editor John Gizzi. Candidates for the Republican nomination for U.S. Senator will debate at the conference luncheon on Saturday, March 24th.
Four interactive panel presentations will constitute the policy core of the conference with topics set to include: Right-Sizing State Government; Marcellus: How Shale We Proceed; Obama's Regulatory Overkill; and Reagan-izing the PA GOP. The Constitution Organization of Liberty (COOL) will present a pre-conference seminar on the Bill of Rights. Also scheduled for Friday morning, March 23rd, is an activist training workshop conducted by the Americans for Prosperity Foundation and the Franklin Center for Government and Public Integrity. The Franklin Center will also sponsor a Saturday afternoon seminar on utilizing video in messaging.
The Heritage Foundation and the Family Research Council will be sending their "Values Bus," to promote voter registration efforts.
Registration and complete information on the 2012 Pennsylvania Leadership Conference is now available at www.paleadershipconference.org.