Santorum Coming to Town (Details)
By Ali Carey, Contributing Writer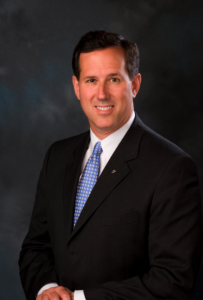 GOP Presidential candidate Rick Santorum knows that if he wants to be a contender he needs to raise more money.  This week, he's coming to Pennsylvania to get by with a little help from his friends.
Santorum is taking a swing through the state with the hopes of tapping his deep PA fundraising base.
Weather permitting, Santorum will hold fundraising events in at least eight locales next week, including Philadelphia, Montgomery County, Scranton, Reading, Harrisburg, State College and Pittsburgh.
Hurricane Irene has already affected Santorum's PA travel plans – his scheduled visits to Philadelphia and Allentown on Monday have been postponed until further notice.
Here's where he'll be on Monday and Tuesday:
Monday, 3:30pm: Luzerne County Republican Party fundraiser in Mountain Top, PA.
Tuesday, 11:00am: PAGOP headquarters in Harrisburg
Tuesday, 3:45pm: Republican Party booth at the Centre County Grange Encampment and Fair.
Tuesday, 7:00ish: Santorum, former PSU GOP President, will meet with the Penn State College Republicans. HUB-Robeson Center, room 106. (h/t StateCollege.com)
In a media advisory yesterday, Santorum expressed his excitement about making his first appearance since his strong performance in the Ames Straw Poll in PA.
"I am excited about returning to where this journey began over twenty years ago, with another upset win over an incumbent everyone said we could not beat," said Senator Santorum.  "So much positive has happened to our campaign that was once written off, but now has such momentum following the outpouring of support we received in Ames. I cannot wait to tell many old friends of all we have accomplished thus far, and our vision for moving forward toward victory in November 2012."
According to the latest Gallup poll of preferences for Republican Presidential Nomination, which polled Republicans and Republican-leaning Independents, Santorum is in seventh place behind Rick Perry, Mitt Romney, Ron Paul, Michele Bachmann, Herman Cain and Newt Gingrich. Santorum is no front runner, but his August numbers are higher than they were in July.
And he's doing better in his home state. National Journal columnist Steven Shepard believes that Santorum's "mini-surge" comes from his base in western Pennsylvania.  "He posts a 24-point lead in the southwest portion of the state, and he also leads by double-digits in the central and northwest sections of the state, nearly overcoming Obama's lead in the eastern half of the Keystone State, including Philadelphia and its suburbs."
Despite voting for Obama in 2008, a majority of Keystone voters now disapprove of Obama's presidency.  Only 43 percent of voters approve of his job performance, while 54 precent disapprove.  This is a significant decline, just two months ago PA voters were split evenly on Obama.
Santorum needs to capitalize on the growing dissatisfaction with the Obama presidency.  The financial backing of the pivotal swing state of PA could be exactly what Santorum needs to reinvigorate his campaign.