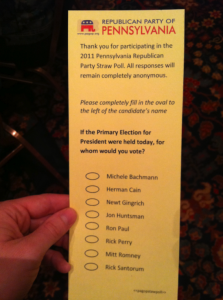 By Keegan Gibson and Sari Heidenreich
PA's favorite son made good in the Republican State Committee's presidential straw poll this evening.
After a speech by his wife, Karen, former Senator Rick Santourum took 36% (138) of the 388 votes cast.
Former Massachusetts Governor Mitt Romney came in second with 25% or 98 votes, followed by Texas Governor Rick Perry with  18% or 71 votes.
Huntsman pulled in fourth with 5% or 21 votes.
General Counsel for the PAGOP, Lawrence Tabas, officiated the poll. He said its findings were not scientific — but added, to loud laughter, "you have to have a valid photo ID to vote."