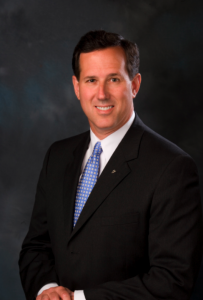 A week after effectively ending his bid for President, Rick Santorum is making an endorsement: Williams Sieg for PA House, for Pa. House in district 92 (based in Dillsburg, comprising southern Cumberland and northern York counties).
The seat is being vacated by Rep. Scott Perry, who is seeking retiring Rep. Todd Platts' spot in Congress.
"William Sieg is someone who will fight every day for this community and for the conservative values we all share," Santorum said. "I've known him his entire life, and he is exactly the type of fighter we need in Harrisburg."
"Senator Santorum has been a leader for conservatives and a fighter for America. I am honored to have Senator Santorum's endorsement," Sieg said. "I'm ready to go to Harrisburg and fight for our working families and to finally end property taxes once and for all."
Harrisburg runs in Sieg's family. His uncle is Pa. Sen. Jake Corman (R-Centre), a long time Santorum friend and ally. Before he served as U.S. Senator from Pa., Santorum served as an aide to Corman's father – also a Pa. Senator.
Likewise, Jake Corman served as an aide to Santorum in his early career.
Sieg recently served as a special assistant to the Secretary of Transportation in the Corbett administration. Before that he served as a staff member in the Pennsylvania Senate. He lives in Newberry Township with his wife and son.
Four other Republicans are seeking the nomination in the strong-GOP district: Scott Derr, Dan Johnson, Anthony Pugliese and Mike Regan. Charles Comrey is the lone Democrat running.
Though he suspended his campaign on Tuesday, he has yet to endorse Mitt Romney, the presumptive GOP nominee.