Santorum on Hannity, Off Bill Bennet
By Abhinav Parameshwar, Contributing Writer
Amidst the press Rick Santorum has been dealing with over the past couple days (courtesy of teen star Miley Cyrus), the former Senator made time to make an appearance on the Sean Hannity Show to kick off its "Hannity Primaries" segment. Santorum was welcomed on the show to share his views prior to his anticipated official announcement to be a presidential candidate on June 6th.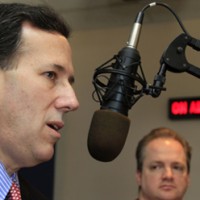 To start things off, Santorum was quizzed on why he wanted to be President.
"I think our country is in a very critical time," he said. "And I think they need someone who is a proven leader, who is consistent, passionate, conviction, conservative who can paint a picture for the American public as to why we have to take on the challenges, it's our duty to the next generation to take on the challenges that we have both overseas and here at home, both economically and culturally to put America back on the right road." Santorum went on to further big himself up by highlighting his history of leadership and ability to articulate "a vision" and "win tough elections."
The Senator also described the opportunity that lay ahead to really introduce himself to the American people. "A lot of folks didn't know much about my record….So, it's an opportunity to introduce myself to not just the voters in Iowa, New Hampshire and South Carolina where I spend a lot of time, but also to the country. And I'm looking forward to that."
Following Mike Huckabee's withdrawal from the race for the Republican candidacy, Santorum expressed his desire to fill the void that Huckabee has left. "I like Mike Huckabee," Santorum said. "(I) was very impressed with the way he did talk about those issues. I think we share a lot in common on those issues. And I feel like I can fill that void. Not just in Iowa, but across the country."
Later in the show, Hannity gave Santorum the chance to explain his comments regarding McCain and torture. The rest of the interview delved deeper into Santorum's forthcoming contest with other Republican candidates.
In addition to his appearance on the show, Santorum also made other news this week. Politicso reports that since the news of his upcoming announcement has spread, the Salem Radio Network has decided to sever their ties with the presidential hopeful. For almost two years, the former Pennsylvania senator has been the guest host for "Bill Bennett's Morning In America," a nationally syndicated radio program broadcast hitting 3.5 million listeners.
"If he, in fact, does formally declare his candidacy for president we will no longer use him as a guest host on 'Bill Bennett's Morning In America,'" said Tom Tradup, vice president for news and talk programming at the Dallas-based Salem Radio Network, which produces and distributes the show.
Although Tradup was quick to clarify that the network would only discontinue their association with Santorum in so much as his role as a guest host. "He and all other Presidential candidates—Republican and Democratic—will continue to be welcome to address SRN's nationwide audience on our many nationally-syndicated talk shows," Tradup said.