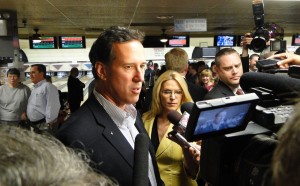 Mechanicsburg — Rick Santorum returned home this week as the nation's attention turns to the GOP primary in Pennsylvania. The former Senator is hoping to hold back a charge by Mitt Romney, and that starts with diners and bowling alleys.
Santorum campaigned at Bob's Diner in Carnegie, Pa, attended two rallies in Blair County, and finished his day at Trindle Bowl in Mechanicsburg. There he shook hands and took photos with about 125 supporters.
In a brief Q&A with the media, Santorum emphasized his expectation that he will carry Pennsylvania.
"We are going to win Pennsylvania, and we need to win Pennsylvania," he acknowledged.
He said that Romney is a weak front runner. If he has such a strong lead, "why isn't he blowing the doors off of people," Santorum asked.
What had looked like a romp a few weeks ago, the Pa. primary now looks likely to be a slugfest. Three recent polls show Romney closing the gap.
Other GOP candidates turned out as well. Frank Pinto is running for Pa. Auditor General. He and his wife showed up like any other spectators, but he worked his way into the Santorum's lanes. By the end of the event, he was giving (evidently helpful) bowling advice to the former Senator's kids.
Outside, Pa. Senate hopeful Andrew Shaw (running against Sen. Pat Vance in Cumberland County) handed out literature.