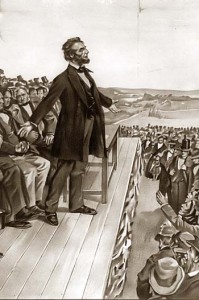 Although Pennsylvania doesn't hold its primary until April 24th, presidential hopeful Rick Santorum will be holding an election night rally in Gettysburg on Tuesday.  Illinois voters will cast their ballots on Tuesday, although the most recent round of polling shows a significant lead for Mitt Romney.
"Tomorrow marks the Republican Primary in the 'Land of Lincoln.' Rick Santorum has chosen to celebrate the evening at the very place President Lincoln gave his most poignant and passionate defense of freedom and the American spirit – Gettysburg, PA," said Hogan Gidley, Santorum's National Communications Director.
"This night will mark an important turn toward the second half of this primary season, with a renewed focus on freedom, empowerment, and nominating a candidate who can draw clear contrasts with President Obama. Rick Santorum is the one candidate who can do that and he will proudly make that declaration of freedom in the tiny Pennsylvania town where so many gave their 'last full measure' in defense of those freedoms."
Santorum currently has a lead among voters in Pennsylvania, and the rally in Gettysburg is more than likely an attempt to turn national attention toward his strengths.  Romney has been making a play for the state, recently attacking Santorum for his past support of Arlen Specter.  Some prominent PA GOP leaders also recently endorsed Romney.
Santorum surely won't let Pennsylvania slip away without a tough fight.  Gov. Corbett's former campaign manager Brian Nutt was recently appointed Santorum's State Director in Pennsylvania. A loss in his home state might not be the final nail in Santorum's coffin, but it would certainly be a devastating blow for the candidate looking to prove he's a viable alternative to Romney.