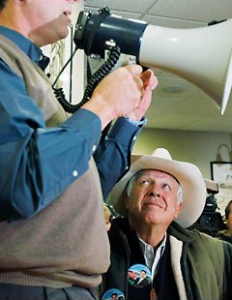 Rick Santorum's 2016 presidential bid may just have the funds to be competitive after all.
Wealthy conservative donor Foster Friess is putting his influence — and his wallet — behind Santorum again. This weekend, Friess will host a private gathering in Scottsdale, Ariz., to garner support for the former Pennsylvania Senator.
The gathering will include conversations with Republican business executives and GOP political consultants from South Carolina and Iowa (two of the three earliest primary and caucus states). Sessions will focus on strategy and financing and will highlight the Santorum-Friess partnership.
Friess' support bolstered Santorum's 2012 campaign. The wealthy donor gave more than $2 million to a Santorum Super PAC, keeping the otherwise little-funded effort on the airwaves and in the running.
And the former Pennsylvania Senator gave eventual 2012 Republican nominee Mitt Romney's a run for his money. Santorum won the 2012 Iowa caucuses, as well as 10 other primaries and caucuses during his campaign.
Support and funding from Friess could mean another competitive Santorum campaign. At the very least, the money could give his bid the stamina to last through 2015 and the early primaries in what is looking to be a crowded GOP field.
It seems Santorum was lucky to nab Friess' backing this time. Friess indicated that he was invited to the inaugural celebrations of 20 Republican governors. Among these was Wisconsin Governor Scott Walker, who could throw his name into the 2016 field himself.
Despite the invites, there's no doubt Friess will be supporting Santorum. "I am clearly in the Santorum camp," Friess wrote in an email to The Washington Post last week.