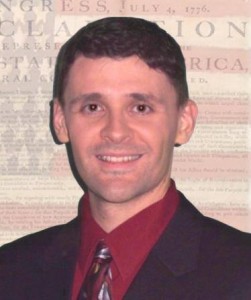 Travis Schooley's campaign designed and executed their own amateur poll of the primary in PA-9.
The results showed Rep. Bill Shuster (R-Blair) in the lead with 24.2%, but Schooley close behind with 18.7%.
"For us, it's useful, because it establishes a trend," Schooley told PoliticsPA. "We think there is some merit to this as being an indicator."
Volunteers of the Schooley campaign called 252 Republican "super voters" within the district, and asked just one question: if the Republican primary were held today, who would you vote for? The choices were Shuster, Schooley, Another Candidate or Undecided.
In the release, Schooley allocated all of the votes for "Another Candidate" to Art Halvorson. That category took 2.4% of the vote.
"Unless these poll results are validated by a third-party professional pollster the results cannot be considered credible," Halvorson responded.
The majority of those polled were undecided, 54.8%.
Internal polls, or polls commissioned by one candidate, are notoriously slanted toward the buyer, and this is likely especially so in this case where the campaign actually executed this poll with phone calls from campaign volunteers.
"I have a poll for you that some family, close friends, and a group of Kindergartners have been conducting across the 9th district over the last couple of days," Shuster's campaign manager Sean Joyce said. "I'm still entering the results into my excel file, but it basically says that Bill Shuster is receiving 98.9% of the vote."
Schooley, a Franklin County businessman and U.S Army veteran, tried to run in 2012 but was forced to drop out when his ballot signatures were challenged.
Shuster's other challenger, Halvorson is a retired Coast Guard Captain. Halvorson commissioned a poll from Gravis Polling last month that showed Shuster at 49.1%. Halvorson took in 22.5% of support, but 28.4% of respondents remain unsure. Schooley was not included.
According to Schooley's campaign, only Republican super voters were surveyed. A number of voters proportionate to the 2012 Republican primary election in each county were assigned a sequential numeric key then randomly selected by excel RandBetween Function. Excel Vlookup Function was utilized to bring over the data from each corresponding voter record such as name and telephone number.
Most telephone numbers were not provided by voter records. The volunteers had to look the phone numbers up of each voter randomly selected where voter records did not indicate a telephone number. Volunteers went straight down the list from top to bottom. Approximately 2,000 telephone calls were completed to actually survey the 252.