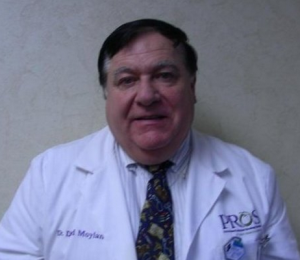 Congressman Matt Cartwright has a new challenger in PA-17: Schuylkill County Coroner Dr. David Moylan.
"I've decided to run for Congress," Moylan said during the third annual Cancer Survivors Celebration of Life at the Simon Kramer Institute. "I did not make this selection without a lot of thought."
Moylan, who has practiced medicine in Schuylkill and Carbon Counties since 1986, has served as the county coroner since 2011. He is the director of the Simon Kramer Institute of Therapeutic Oncology in New Philadelphia.
He has a tough road ahead if he plans to beat Cartwright. The 17th District was redrawn in 2011 to make it a safe Democratic seat. Cartwright safely defeated Republican Laureen Cummings 60-40 in 2012.
Moylan said he discussed his plan to run with former Congressman Tim Holden, who represented the 17th congressional district for 20 years before being unseated by Cartwright in 2012, prior to his announcement.
"One of the things that did inspire me to run was that Tim Holden was a pro-life vote," Moylan said. "That is the most important thing."
While Moylan said that many people, including Holden, told him that a victory would be "impossible," at least one veteran conservative activist thinks he has a shot.
"Doc Moylan is a highly respected oncologist who speaks credibly and passionately about the horrible effects of Obamacare on patients and the economy," said former Schuylkill County GOP chair Joe Sterns. "From the medical community alone he should be able to raise the money necessary to be competitive. Remember, Laureen Cummings scored 40 percent against Cartwright during a presidential year having spent a pittance — well under six figures. In an off-year election against a candidate who can raise real money and who makes Obamacare a central issue, Cartwright will have his hands full."
Sterns went on to say that if Moylan can "hold down the damage" in Lackawanna and Luzerne counties, while winning Schuylkill, Carbon and the Lehigh Valley, he can make it a race.
Moylan joins Matthew Dietz, of Wind Gap, in the Republican primary. Dietz raised $7,215 in the second quarter and has $6,900 on hand.
Cartwright, who reported $283,323.70 cash on hand after the second quarter, remains unfazed.
"We welcome Dr. Moylan to the race. However, right now Rep. Cartwright is focused on doing the job that the voters of the 17th district sent him to Washington to do," said Shane Seaver, Cartwright's campaign spokesman. "On top of being elected the Democratic Freshman Class President by his colleagues, Cartwright has been the most productive Freshman member on either side of the aisle introducing 14 pieces of legislation that aim to help the people of Northeastern Pennsylvania and the Lehigh Valley."