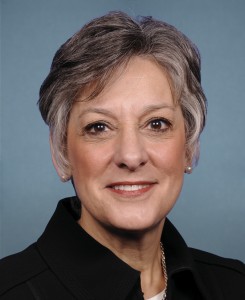 Harrisburg — Over the weekend Service Employee's International Union held their Leaders in Action conference with US Rep. Allyson Schwartz as the keynote speaker.
"We are looking forward to a great speech. Our members know her. Even as a State Senator from Philly she has stood up for working people," said SEIU 668 Legislative Director Bill Bacon.
Opening to the Rocky anthem, Director of the SEIU State Council Mike Burnell introduced Schwartz with sincere enthusiasm.
Schwartz spoke for 20 minutes highlighting her rise to Congress starting with the opening of a woman's health clinic, her support for labor and even her mother's experience coming to America.
"She taught me…it is not better to raise children in fear and abandonment and violence, it doesn't actually make you stronger," Schwartz said. She also highlighted her claimed PA Senate achievement in the creation of CHIP.
There was of course the requisite Corbett-bashing by the gubernatorial candidate.
"In all my years I have not seen a Governor with more disdain for working people," she blasted.
Her aim was clear.
"I need organized labor, and particularly I need SEIU," Schwartz told the crowd.
And her message well received.
"She is in our corner for pensions and a good representative for working people," conference attendee Lawrence Funk said.
As the Democratic primary heats up Schwartz is an early front runner in the latest Quinnipiac Poll, leading Corbett head to head at 45% to 35%. Treasurer Rob McCord is the a close second at 43% to 35%.
SEIU 668 President Kathy Jellison explained the group is just now testing the waters.
"We are currently weighing all of the candidates and will be giving more opportunities to all of the people," she said.
All five declared candidates for governor have begun the push to introduce themselves to the party base. McCord, who is expected to run but has not yet announced, was set to attend the union's pool party the next day.