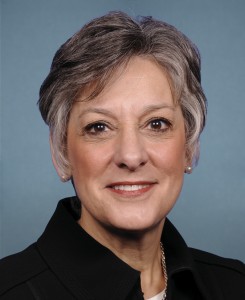 Rep. Allyson Schwartz keeps on moving up in the ranks of the Democratic Congressional Campaign Committee, and it's cast doubt on her intent to run for Governor.
DCCC Chair Steve Israel announced Thursday that he was tapping her to be the national Finance Chair of the committee.
The National Journal reported the news, and the PG's Early Returns noted its implications on the Gov 2014 picture.
Schwartz made news on the eve of the Pa. Society weekend when she hired Aubrey Montgomery, who worked as finance director for the Pa. Democratic Party during the 2012. The Democratic Congresswoman from Montgomery County then said she was considering a bid.
However, her rising star in DC may entice her to stay in Congress. She's often listed among member who may rise into leadership when Minority Leader Nancy Pelosi and her team depart.
And a national fundraising role would also explain her interest in bringing Montgomery's fundraising prowess on board.
Schwartz served as the DCCC's recruitment chair during the 2012 cycle, a tepidly positive year for Democrats nationally but a bad one in Pa.
She's always been a superb fundraiser and consistently leads the Pa. delegation.