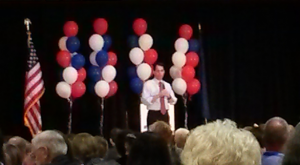 One of the leading Republican candidates for the presidency visited Philadelphia today.
Wisconsin Governor Scott Walker gave the keynote address at the National Republican Leadership Conference.
Walker isn't officially in the race yet, but he did lay out a fundraising goal nicknamed "The Road to 270" (270 is the number of electoral votes it takes to win the White House). Therefore, it's safe to say he's in. Supporters expect him to announce on July 13th.
A new national PPP poll released Tuesday showed Walker as the GOP front-runner. On an anecdotal note, I heard two separate attendees state that they would support any candidate but Jeb Bush.
In fact, the PA GOP conducted a straw poll through the three-day weekend of perspective 2016 GOP candidates. Walker won with 25.3% of the vote followed by Chris Christie (11.3%), Marco Rubio (11%), Rick Santorum (9.6%) and Jeb Bush (9.6%).
The Governor was introduced by fellow conservative (and foe of organized labor) State Sen. Scott Wagner. His biggest applause line came when he praised Gov. Walker's ability to pass voter ID and "right-to-work" laws.
The guest of honor started off with a prayer for the victims in Charleston and a round of applause for military members.
Despite the presence of a podium, the future candidate chose to take the microphone and roam the stage as he spoke. A smart move that made it easier to connect with a crowd that constitutes the men and women he'll need to be successful in his quest.
He further endeared himself to the audience when he said that as a runner, he loved being able to replicate the famous Rocky run up the Art Museum steps.
At another point, he mentioned that his Great-great grandfather emigrated to Philadelphia and worked as a blacksmith.
He even finished with a story about visiting Independence Hall.
Referring to the attempt to remove him in a June 2012 recall, he thanked all the GOP faithful who aided his retention effort.
"I appreciate the help for when we faced that recall election," Walker stated before transitioning to the future.
"We've formed a testing the process committee, which is the next big step in deciding whether you're going to run for President."
The passionate conservative then laid out his pitch as to why he is uniquely equipped to be victorious.
"To win the center, you don't always have to run to the center, you have to lead," Walker asserted.
The Wisconsin native believes this mantra can play anywhere but can be especially beneficial in the Rust Belt.
"I believe the next President is going to come from the industrial part of this country and Pennsylvania will play a big part of that."
Walker also dipped into what will surely be the accomplishments section of his future stump-speech, contending (as all Governors that run for President do) that what worked in their state can work for the country.
"If we could do that in a blue state. If those reforms can happen in a state as blue as Wisconsin, they can happen anywhere."
Gov. Walker went on to outline the core of his speech with three distinct points: "Growth, Reform and Safety".
Apparently, the Wisconsinan feels the nation's leading Democrats are too focused on Washington.
"They think you grow the economy by growing Washington," Walker said of Democrats like President Obama and Secretary Clinton.
Concerning reform, he said that Democrats measure the success of government by how many people depend on it, while Republicans measure it by how many people are no longer dependent on government.
For a man with no international experience, Walker was very passionate on national security issues.
He explained that he chose to identify national security as "safety" because overseas atrocities like beheadings had affected him so personally.
Walker also unequivocally came out against any nuclear deal with Iran.
"That is a country we should not be doing business with," he asserted.
The biggest standing ovation of the day, in fact, came when Walker criticized the President for identifying climate change as the largest national security threat instead of radical Islamist terrorists.
"Our enemy is like a virus," he said. "I'd rather take the fight to them rather than wait for them to take the fight to us."
He finished by reminding the audience that he had fought the good fights and won the good fights and pledged that the American people "want someone who is not only going to fight but win."
It was an impressive performance that reached the crowd of Republican die-hards in the Sheraton ballroom and may be able to extend far beyond there.
Still, the spectre of the biggest fight of Walker's life hung over the event.
Through some playlist oversight, the most unlikely tune emerged from the loudspeakers just minutes before Walker took the stage.
The song was "Don't Stop Thinking About Tomorrow".