)
Another shot has been fired in the battle over the airwaves in SD-28, this one by the SRCC in favor of Rep. Ron Miller (R-York) and against conservative activist Scott Wagner.
The ad, entitled "Garbage Man," focuses on an elderly woman whom Wagner apparently sued for $600.
According to an article from the York Daily Record, Clara Palmer's "Great Depression-era upbringing" led her to learn that nothing should be wasted. She used every piece of trash she possibly could and recycled a great deal. Anything that she couldn't use was taken to an incinerator or landfill by her sons. Palmer also wanted to keep her expenses small, so she chose not to pay for trash collection since she didn't need it.
Wagner's company, Penn Waste, happened to be the trash collector in Springettsbury Township where Palmer lived. Here, the contractor is allowed to sue residents for not paying trash collection fees. Hence, Wagner's seeking of $600 in missed collections fees and legal costs.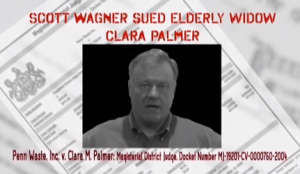 "Scott Wagner demanded money from me that he didn't have coming because I was not taking his services," Palmer says defiantly in the ad.
"Scott Wagner did this to an elderly widow," a voice intones over a stormy shot of Wagner's face imposed over the Capitol building. "What will he do to us if he gets into power?"
A man sitting with Palmer claims that Wagner ruined their lives, whereupon the ad reiterates Wagner's actions and says that "he doesn't deserve our vote."
The ad was paid for by the Senate Republican Campaign Committee.
Miller and Wagner are butting heads over the special election taking place for the seat of retiring Senator Mike Waugh (R-York). Miller is the official Republican candidate and Linda Small will be the Democrat, but Wagner is attempting to win through a write-in candidacy.
Miller is clearly taking Wagner's intentions seriously, as this is the second attack ad he has launched against him.