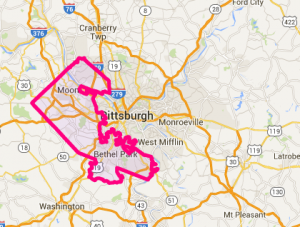 The open contest for the 37th District's State Senate seat is finally heating up.
Prospective Democratic and Republican candidates are making their cases to their respective parties that they'll be the best ones to win in November.
As James O'Toole of the Post-Gazette reports, the Democrats are looking at two hopefuls: Mt. Lebanon Party Committee Chair Michelle Zmijanac and Women and Girls Foundation CEO Heather Arnet.
Former Sen. Matt Smith, whose retirement led to all this, seems to be behind Arnet.
On the Republican side, there is much more activity.
As we've reported before, attorney and U.S. Navy veteran Natalie Mihalek was quick out of the gate and was the first candidate to officially declare for the race. One GOP source contends that Mihalek is the choice of Senate Majority Leader Jake Corman and conservative favorite Scott Wagner.
O'Toole identified four other possible GOP contenders including: 2012 nominee D. Raja, Bethel Park Councilman Paul Dixon, State Rep. John Maher and District Judge Guy Reschenthaler.
It is believed the latter two, along with Mihalek, have the best chance at the nomination.
Judge Reschenthaler, however, is in an awkward position. The PA Judicial Code states that magistrates shall not "engage in partisan political activity". Nevertheless, PoliticsPA has learned that the Judge has been speaking at political gatherings and reaching out to party leaders.
O'Toole notes that Reschenthaler will step down from the bench if he gets the nomination. Obviously, the Judge only wants to resign if he becomes the nominee.
Charges of improper campaigning have been made against other judges in the past and are not necessarily a political death sentence. Still, in a race that will come to just a few party committee members, anything can make the difference.
The Democrats and Republicans are expected to choose their nominees in the the next few weeks. The general election will occur on November 3rd.
The 37th district includes parts of Allegheny and Washington Counties.