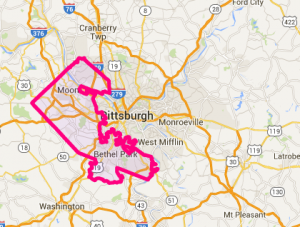 The Republican Party will have their man or woman to run for the 37th Senatorial District by the time the sun goes down Saturday.
The PA GOP have released a list of the members who will be tasked with selecting a nominee for the special election on Nov. 3, the same day as the general election.
The conferees will meet on Saturday, the 11th at the Crowne Plaza Pittsburgh South: 72 from Allegheny County and 9 from Washington County.
Any Republican Party members interested in running for the office are asked to declare their interest by 5 p.m. Thursday.
Each candidate will be able to deliver a short presentation at the conferee meeting, after which the 81 members will vote on the party's nominee.
U.S. Navy veteran and attorney Natalie Mihalek is one of the frontrunners for the nomination, who is said to be the pick of Senate Majority Leader Jake Corman and conservative favorite Sen. Scott Wagner.
State Rep. John Maher and District Judge Guy Reschenthaler are also thought to be eyeing a run.
The nominee will face off against either Mt. Lebanon Party Committee Chair Michelle Zmijanac or Women and Girls Foundation CEO Heather Arnet.
Sen. Smith resigned at the end of May to take over as President of the Greater Pittsburgh Chamber of Commerce, leading to the vacancy in the Senate.
The 37th Senatorial District is made up of parts of Allegheny and Washington Counties.
UPDATE: Rep. Maher is taking himself out of the running.
"Most of you know, however, that I have been actively discouraging the encouraging!," Maher wrote in an email to supporters. "I decided weeks ago to not be a candidate.  Nonetheless, the encouragement directed my way kept increasing and I relented a bit — I promised to give the question more consideration."
As a result of the budget crisis, however, Maher is officially removing himself from consideration.
"In light of the chaos being cultivated by Wolf, I believe that I should stick to my decision and continue to devote myself to legislative duties this summer without the distraction of being a candidate," he concluded.