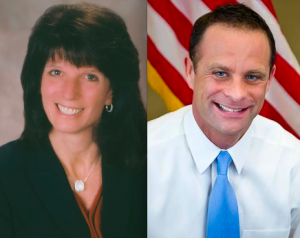 Sean Wiley, Democrats' best hope for picking up a state Senate seat in 2012, released Tuesday an internal poll with promising results. Though they're a little over a month old, the numbers show him leading Republican Janet Anderson 51 percent to 33.
"I am deeply humbled by the support that I have received from my fellow residents of the 49th District. There is still a lot of work to be done to get the message of bringing Erie values to Harrisburg," said Wiley of the numbers.
He is an executive at St. Vincent Foundation (affiliated with a local hospital) and formerly worked in Erie County government. Anderson has worked in government and was most recently the Executive Director of the Northwest Regional Planning and Development Commission. Both are vying for the seat of retiring Sen. Jane Earll (R-Erie).
The poll, conducted by the firm Thirty-Ninth Street Strategies in Washington, DC, shows Anderson with an uphill climb. Of the 16 percent of voters who are undecided in the SD-49 head-to-head, 43 percent are registered Dems and 40 percent are Republicans.
The senate district is also favorable to other Democratic candidates in the ballot in November. Barack Obama leads Mitt Romney 58 percent to 32. Bob Casey leads Tom Smith by an identical 58 percent to 32 in the race for U.S. Senate. Gov. Tom Corbett's job approval is also negative here: 56 percent disapprove compared to 43 who approve.
View the full polling memo here.
As with any internal poll, this should be taken with a grain of salt. Most campaigns release their numbers either to demonstrate their own viability, or to minimize that of their opponent.
In this case, these numbers are more than a month old. Releasing them today, the first business day after Labor Day and thus the first day of the fall campaign season, could be an effort to create a narrative of inevitability for Wiley. Doing that would boost Wiley's fundraising at the same time as it would deter potential donors to Anderson.
Wiley has a built-in early advantage because of his high-profile primary campaign in April, when he vastly outspent his opponents. This poll predates the start of the fall TV campaign, where Anderson had a week head start on Wiley (the Democrat has spent more to date). Both candidates are presently on TV in the district.
Anderson Campaign Manager Casey Contres suggested the poll release was a defensive move by the Wiley campaign.
"It's no wonder that after our string of endorsements by local small business owners as well as the NFIB and PEG PAC, our television advertising, and our grassroots campaign that has knocked on thousands and thousands of doors, Sean Wiley and the Harrisburg Democrats would put a month old poll out showing him underperforming registration," he said. "After spending hundreds of thousands of dollars in the primary, Wiley now realizes that voters want an independent voice with the experience to get Erie working again."
Thirty-Ninth Street Strategies surveyed 400 likely voters via live interviews from July 30 to August 2, 2012. The margin of sampling error for these results is +/- 4.9 percent with a 95 percent confidence level.
The pollster released a similar memo in the SD-37 race between Matt Smith and Raja.
State of the PA Senate
PA Democrats are salivating at the idea of multiple state Senate pickups this election cycle, made possible in large part to the delay in legislative redistricting which allows them to play on a map that favors them more than will the new one.
Any dent in the Dems' 30 to 20 minority in the PA Senate will begin in Erie, with Sean Wiley.
Other possible pickups include the SD-37 seat of former Sen. John Pippy (R-Allegheny), the SD-15 seat of retiring Sen. Jeff Piccola (R-Dauphin), Sen. Elder Vogel (R-Beaver) in SD-47 and Sen. Dave Argall (R-Schuylkill) in SD-29.
Republicans will have a much tougher time knocking off an incumbent and most insiders acknowledge that this year is about playing defense. However, they're holding out hope that a window will open against Sens. Daylin Leach (D-Montgomery) in SD-17 and John Wozniak (D-Cambria) in SD-35.