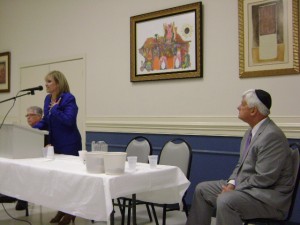 The battle for the State Senate has increasingly become a focus of PA politicos, and the 6th district is one of the most important battles that will determine control of that chamber.
Immediately following the PA-8 candidates forum, long-time Republican State Senator Tommy Tomlinson and Democratic nominee Kimberly Rose held their own.
Opening
Senator Tomlinson emphasized his roots in his opening statement, noting that he has served in some sort of local public office since the 1970's. He laid the blame for legislative gridlock at the feet of partisanship.
"You ask what's wrong with legislation today, Congress today…It's people just don't want to compromise," he said.
Dr. Rose also spoke about how she lives in the region and described some of the work she's done for the community. Rose currently serves on the Northampton Township Board of Supervisors. She also used this as the first of many opportunities to connect Sen. Tomlinson with Gov. Corbett and brought up the supposed $1 billion cut to education.
Public Education Testing
The Senator took the first question, which concerned education testing. Tomlinson denounced the "teaching to the test" phenomenon. He also took issue with the "$1 billion education cut" claim.
"I put billions of dollars in education," he said. "In fact, the gaming act that I did, when I first proposed the gaming act, I put it directly in education. Governor Rendell wanted to put it into a property tax rebate which is still a backdoor into education. And in this budget, we'll go over $5 billion dollars back into education."
The Democratic nominee took this opportunity to denounce Common Core.
Medicaid Expansion
Rose was then asked about the Medicaid expansion in the ACA and she made clear she felt the full public expansion must be expected. She also commented that Gov. Corbett's private HealthyPA plan would be less efficient.
Tomlinson mentioned that he voted for the full Medicaid expansion and felt the rejection of federal dollars was a mistake.
Liquor Privatization
The Senator was then asked "the age-old question" of PA politics (according to the moderator); liquor privatization. Tomlinson expressed fears that small businesses could be disadvantaged under some of the proposals in the legislature.
Meanwhile, Rose came out against liquor privatization, citing the $514 million liquor sales bring into the state treasury. She called for "modernization" rather than privatization.
Tom Wolf
Kim Rose was then asked if she supported Wolf's plan to raise taxes on those with incomes over $70,000 (although that's not exactly what he said).
"I know this is going to be a shock but I don't support every single thing that Tom Wolf has proposed. I don't," she said before transitioning to her support of a 5% severance tax.
She also accused Tomlinson of only supporting the severance tax to fund education after she aired TV ads against him on that subject.
"Well, that's a lie," Tomlinson responded. He acknowledged voting for budgets that didn't include the severance tax but noted that he has voted for a lot of budgets for various different reasons.
Pension Reform
The GOP Senator said that the best way to put the money back into the pension system was through a 5% severance tax.
The Democratic nominee asserted that Sen. Tomlinson voted to increase his own pension by 50% in 2001 so his claims were hypocritical.
College Education
The final question dealt with how to help a prospective student afford a college education. Rose mentioned co-ops and community colleges as some potential positive options.
Tomlinson touched on his kids experience attending Bucks County Community College.
Closing
Rose used her closing statement to attack Tomlinson for not having a plan once the federal stimulus funds ran out and voting for all three of Governor Corbett's budgets.
"They are like two peas in a pod," Rose said of Tomlinson and Corbett. "He has supported him in every way possible."
Tomlinson countered that he voted for all of Ed Rendell's budgets as well as the budgets of Tom Ridge and Mark Schweiker. He also contended that the education funding has been put back into the system.
Altogether, this event was more livelier than the PA-8 debate. Tomlinson, like Fitzpatrick and Strouse, chose to go without notes and wander into the crowd. Rose, on the other hand, took notes throughout and chose to speak behind the podium in order to use the microphone. It would not be surprising if debates between these two candidates only got more entertaining (and enlightening) over time.