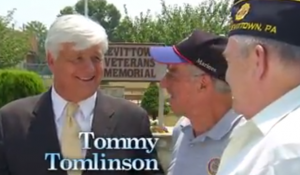 State Senator Tommy Tomlinson (R-Bucks) released his first campaign commercial this weekend.
The Republican incumbent is seeking to distance himself from unpopular Governor Tom Corbett by declaring he "has always put people over partisan politics."
The ad further differentiated him from Corbett in terms of policy as well.
"[Tomlinson] supported taxing big oil and gas companies for extracting pennsylvania's natural gas," the thirty-second spot states. "Tomlinson's bill would use that money to help increase education dollars flowing directly into the classroom."
Entitled People Before Politics, the ad was a response and dismissal of Rose's first ad, which spoke of a Corbett-Tomlinson partnership.
Tomlinson, 68, has held the seat since 1995. He cruised to re-election by 16 points in 2010 and won by 7 points in the Democratic wave year of 2006.