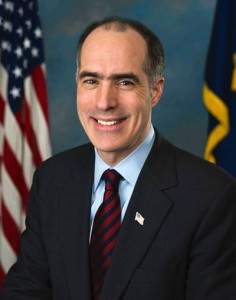 On Tuesday, Senator Bob Casey Jr. announced his appointment to the Senate Finance Committee.  As predicted by PoliticsPA way back in December, he will fill the seat vacated by John Kerry who was confirmed as Secretary of State on January 29th.
"I am honored to have the chance to serve on the Senate Finance Committee where I will continue to fight for Pennsylvania priorities." Senator Casey said, "This assignment means I will have a seat at the table in addressing responsible tax reform to spur innovation, create jobs and promote economic growth."
Within two months, Pennsylvania went from having no representation on the Senate Finance Committee to being one of two states (the other is Ohio) to have both senators sit one of the most influential committees in the Senate.  Sen. Pat Toomey became one of two freshmen senators on the committee when he was appointed in early January.
Casey was said to have an eye out for the seat when rumors started about Kerry becoming the next Secretary of State.  The appointment will also give him additional leverage useful to fulfill his campaign promises regarding taxes, trade policy, and healthcare.
"I will also be in an even better position to continue my efforts to level the playing field for American manufacturers through reasonable trade policy, ensure essential programs like Medicare work for current and future beneficiaries, incentivize research and development and protect our future by providing children with access to affordable health care."
Senator Casey also serves on the Foreign Relations Committee; Health, Education, Labor, and Pensions; the Special Committee on Aging; and the Joint Economic Committee where he serves as chairman.
Update:
On Wednesday, Senator Casey's office released a statement announcing his new position as Chairman on the Subcommittee on Employment and Workplace Safety on on the Health Education Labor and Pensions Committee also known as 'HELP.'
"It is an honor to serve as the new Chairman of the Health, Education, Labor and Pensions Subcommittee on Employment and Workplace Safety.  In this leadership position, I will continue to support American workers by addressing improvements to our workforce development system, workplace safety protections and fairness for workers." Casey said, "It is critical that we help prepare Pennsylvanians and all Americans with the technical skills necessary to help them compete in today's economy.  I thank Senator Murray for her leadership to date on the subcommittee and I look forward to continuing to work with Chairman Harkin on policies to spur job creation and expand economic growth. "