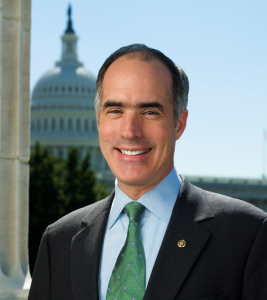 Senator Bob Casey announced during a press conference in Pittsburgh today that he will call for an additional 10 million federal dollars to assist the Department of Labor in more efficiently processing black-lung compensation cases.
The $10 million would be in addition to the $2.9 million that President Obama has already requested and would be used to hire 20 additional judges for the department, which currently has 36.
Since 2005, the number of black-lung cases filed has increased by 60 percent, while the number of judges employed has decreased by 20 percent.
Lynda Glagola, executive director of the Lungs at Work clinic in McMurray, believes that while hiring more judges would certainly help to decrease the backlog, legislation requiring coal companies to disclose radiology and pathology reports more quickly and in their entirety is also necessary.
Right now, the backlog of 14,000 cases means that it can take more than three years for a case to be decided, leaving miners affected by black lung to become significantly sicker, and sometimes die, while they wait for compensation from employers.
"Justice delayed is justice denied," Casey said. "That's exactly what's happened here."
While Casey believes that $10 million is not enough to close the backlog completely, he believes that a request for any more would not stand a fighting chance in Congress.