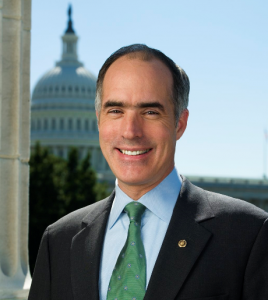 Earlier this week, Senator Bob Casey made his choice in the Senate Democratic primary.
Now, he is making his pick in the Attorney General Democratic primary, endorsing Montgomery County Commissioner Josh Shapiro.
"Josh Shapiro will be an Attorney General who fights to keep our communities safe, and stands up for seniors and consumers," Senator Casey said. "Inscribed over the front door of the Finance Building in Harrisburg is the following, 'All public service is a trust, given in faith and accepted in honor.' As our next Attorney General, I know Josh will uphold that trust. During his time in public service, Josh has earned a reputation as a reformer who delivers results. The plans Josh has outlined for the Attorney General's office will build upon that track record of reform. I'm proud to stand with Josh Shapiro as he campaigns to be our next Attorney General in Pennsylvania."
"Senator Casey is someone I admire deeply. He has always stood up for the people of Pennsylvania and I'm so proud to have his support," Shapiro responded. "Like Senator Casey, I'll be a champion for integrity, and will work day in and day out for all Pennsylvanians. As Attorney General, I'll be aggressive in taking on criminals whether they're on the street selling drugs to our children, in our communities polluting our drinking water or on the other end of the telephone fleecing consumers."
Shapiro is running against Allegheny County DA Stephen Zappala and Northampton County DA John Morganelli in the April 26th Democratic primary.