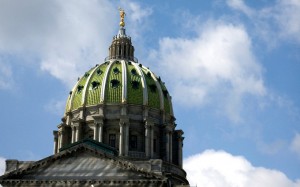 With all eyes on the budget, state lawmakers have moved one of the most restrictive abortion bills in the country one step from Gov. Tom Wolf's desk.
The Senate Judiciary Committee approved House Bill 1948 by a 9-5 party-line vote on Tuesday, with the bill now set to be considered by the full Senate.
Wolf has vowed to veto the bill, meaning 33 senators must vote for the bill to override the veto.
Three weeks ago, the House passed the bill – which would limit women's access to abortions beyond 20 weeks of pregnancy as well as ban the use of dilation and evacuation – by a 132-65 vote, just four votes short of a veto-proof majority.
The constitutionality of the additional abortion restrictions was challenged in the House by several Democratic members and is expected to be an issue again in the Senate.
Seventeen states have similar 20-week abortion bans in place, though they are being blocked by federal or state in courts in three of them, Charlie Thompson of PennLive reports.