By Ali Carey, Contributing Writer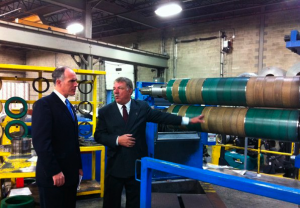 There's good news from Washington for workers who have lost their jobs due to unfair trade practices.  Last night the Senate passed Senator Bob Casey's (D-PA) Trade Adjustment Assistance Amendment with a bipartisan vote of 69 to 28.
All Democrats and sixteen Republicans voted for Casey's bill. Twenty-eight Republicans voted against it including Senator Pat Toomey.
Casey has repeatedly hammered trade issues and a tough approach to Chinese currency manipulation, issues that appeals to a wide swath of the electorate from union workers to foreign policy conservatives.
TAA was created in 1962 as a way to help workers and firms negatively impacted by trade.  In 2009 TAA was expanded as part of the stimulus plan to include additional workers, expanded job training and improved health care coverage.  These enhancements expired in February 2011.  If the TAA program was not passed last night it would have expired in 2012.
Senator Casey has long been putting the pressure on the Senate to pass his amendment, and sought to preempt Republican efforts to tie the proposal to upcoming trade agreements.
"The TAA extension should be signed into law before the three pending trade deals are sent to Congress.  Waiting on pending NAFTA-style trade deals would be an insult to workers whose jobs have already been shipped overseas," said Casey in a statement.
Casey's amendment will provide TAA resources service and manufacturing workers affected by outsourcing, regardless where their firms relocated (including India and China).
The amendment authorizes $575 million for fiscal years 2012 and 2013 to ensure that states have the necessary funding to provide long-term job training.
"I have been calling on Congress to extend the TAA provision since last year.  Pennsylvania workers who have lost their jobs because of unfair foreign trade shouldn't have to wait in line any longer for help.  It is time to put Pennsylvania workers first," Casey said.