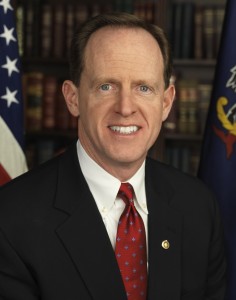 Sen. Pat Toomey's foray into the bipartisan limelight ended in defeat Wednesday as the U.S. Senate voted down down gun legislation offered by he and Sen. Joe Manchin (D-WV).
The final vote was 54 in favor, 46 against. It needed 60 votes to proceed.
The bill would have expanded background checks to firearm sales at gun shows and over the internet.
The defeat follows several days of intense lobbying by gun rights and gun control advocates and comes despite numerous public polls which show over 80% of voters nationally support universal background checks.
Toomey expressed disappointment at the outcome, and signaled his desire to move on from the guns issue.
"I did what I thought was the right thing for our country. I sought out a compromise position that I thought could move the ball forward on an important matter of public safety. My only regret is that our amendment did not pass," he said.
"It's not the outcome I hoped for, but the Senate has spoken on the subject, and it's time to move on. We have a lot of other very important issues to deal with such as getting the economy back on track, dealing with the debt ceiling and creating more jobs for Pennsylvanians."
Proponents had hoped that Toomey's name on the amendment would win the support of other Republicans. Ultimately GOP Senators went 41-4 against the bill. Democratic Senators favored it 50-5.
Republican Sens. Susan Collins (R-ME), Mark Kirk (R-Illinois), John McCain (R-AZ) and Toomey supported the bill; Democratic Sens. Max Baucus (D-MT), Mark Begich (D-AK), Heidi Heitkamp (D-ND) and Mark Pryor (D-AR) opposed it. Senate Majority Leader Harry Reid (D-NV) voted no for procedural reasons.
Since he and Manchin unveiled the proposal, Toomey struggled to push back against opposition from conservatives who said the bill would open the door to a federal gun registry – something Toomey said the bill specifically prohibited.
But support for the bill began to dissolve, particularly when the Citizens Committee for the Right to Keep and Bear Arms – a gun rights organization – pulled its support Wednesday.
As it became clear that the bill would get the votes, moderate Republicans and Democrats began to back away from the legislation.