☕ Hello, Thursday. Thank you for reading the PoliticsPA Playbook.
PA Weather
⛈️ Somerset | Showers, T-storms, 79
⛈️ Williamsport | Showers, T-storms, 85
☀️ Easton | Sunny, 93
PA Sports
⚾ Phillies (77-62) | San Diego 5-1 | Fri-Sun vs. Miami
⚾ Pirates (65-75) | Milwaukee 5-4 | Fri-Sun vs. Atlanta
What We're Hearing
PA's Democratic Sens. John Fetterman and Bob Casey Jr. are hosting a joint fundraiser on September 13 entitled "Hoodies and Suits."
Happy Birthday
Cake and candles for former Rep. Ryan Costello.
Subscribe Today. Did I Mention It's Free?
Get your Pennsylvania political news emailed to you at the start of every day. Sign up for your free subscription to the PoliticsPA Playbook.
Follow Us
On the platform formerly known as Twitter | On Facebook | On LinkedIn
Top Story
1. Constitutional Debate Over Trump's Eligibility To Run More Extensive Than Realized
"The idea of barring former President Donald Trump from seeking the presidency on grounds that it would violate the 14th Amendment may be an increasingly catchy constitutional argument pushed by a segment of legal scholars and activists.
But it turns out election officials have been discussing how to handle it for months.
The legal theory argues Trump is constitutionally disqualified from running for president under the 14th Amendment's "insurrection clause," which states that anyone who "engaged in insurrection or rebellion" after taking an oath of office to defend the Constitution is forbidden from holding public office." (POLITICO)
Related
'A Big Circle Jerk': John Fetterman Dares Republicans To Impeach Joe Biden. "Sen. John Fetterman (D-Pa.) had some blunt words for Republicans who are pushing to impeach President Joe Biden: It'll bite you in next year's elections. "Go ahead. Do it, I dare you," Fetterman said during an interview with a handful of reporters in his Capitol Hill office on Wednesday. "If you can find the votes, go ahead, because you're going to lose. It's a loser." (HuffPost)
PA-12: Lee Will Announce Reelection Bid Thursday. "U.S. Rep. Summer Lee will formally announce her plans at 6 p.m. event at the Pittsburgh Federation of Teachers headquarters on the city's South Side." (PoliticsPA)
Congresswoman Susan Wild Warns Of 'A Child Care Cliff' As Federal Pandemic Funding Ends This Month. "Wild said the federal government gave states $24 billion during the pandemic on child care. But the deadline for spending that money is Sept. 30th. Wild said she and fellow colleagues are asking the Biden administration for an additional $16 million. She is also sponsoring legislation that would cap childcare costs at 7% of a person's income, but it's unlikely to be voted on before the 2024 election." (LehighValleyNews.com)
State
2. Last Part Of The PA Budget Standoff Is Costing State Courts Millions Of Dollars
"Thanks to budget dysfunction in the state Capitol, people filing divorces, estates, and many other legal actions across Pennsylvania are getting a financial break while courts lose millions of dollars.
Authorization under state law for a pair of surcharges totaling $21.25 that the court system usually collects on many types of filings expired on July 31. While lawmakers and Gov. Josh Shapiro have put in place much of the state budget, a laundry list of legislative items remains undone. One is approving language that reauthorizes surcharges that help fund the state's Unified Judicial System.
The lost revenue amounts to about $3.7 million a month for the court system." (Pittsburgh Post-Gazette)
Related
PA Removes Email Database of Public Employees. "The state Office of Administration, which oversees cybersecurity for state government agencies, took down the directory in May because it posed a security risk, said communications director Dan Egan." (Spotlight PA)
Pennsylvania Senator Wants Fracking Wastewater Classified as Hazardous. "Katie Muth knew it would be a long shot. This January, the Pennsylvania state senator reintroduced three pieces of legislation aimed at closing loopholes in the laws governing how the oil and gas industry disposes of its solid and liquid waste." (Mother Jones)
Change In State Police Academy Requirements Generates Burst In Applications. "State officials said 137 of 297 people who applied in the two days after the announcement last week do not have college credits. It's exactly what Gov. Josh Shapiro was hoping for when he lifted the requirement." (Tribune-Review)
PA Gets An 'F' For Lack Of Oversight On Lead In School Drinking Water: Report. "A report by national environmental groups puts Pennsylvania on the bottom tier of states in lead reporting and remediation in schools, with advocates calling on the legislature to tighten rules regarding the hazardous metal in drinking water." (PennLive)
Lawmakers Look To Let Online Consumers Control Use Of Private Data. "The Consumer Data Privacy Act as proposed by Rep. Ed Neilson would require many online businesses to disclose what personal data they accessed or processed, allow consumers to correct inaccuracies and delete personal data, and request and obtain a digital copy of the personal data collected." (CNHI News)
Around The Commonwealth
3. Erie County Council Veteran Accountant Says Brenton Davis Improperly Increased 2023 Budget
"In a statement to the Erie Times-News, Joe Maloney, an accountant with the Erie-based firm Maloney, Reed, Scarpitti & Company LLP, said (Erie County Executive Brenton) Davis in December vetoed a number of budget reductions that council had included in the adopted 2023 general fund budget.
By vetoing the reductions, Davis was able to increase the size of his travel budget; increase funds to his economic development department; and add three positions to his administration.
The vetoes, in total, added more than $400,000 to the final general fund budget adopted by council." (Erie Times-News)
Related
Danielle Outlaw's Career in Philadelphia Was Defined by COVID, Mass Protests, Violence, and a Staff Exodus. "Hired to address a series of internal scandals, Outlaw instead faced a diverse and urgent set of challenges almost as soon as she was sworn in." (Philadelphia Inquirer)
Money Ball: Sports Commission Advances Nearly $800,000 In Funding For Local Tournaments — Even Robotics. "A local sports commission doled out nearly $800,000 in grants Wednesday to help fund 16 competitions throughout the region — everything from rugby, squash, curling, basketball, wrestling and soccer to that paragon of athletics, um, robotics." (Pittsburgh Post-Gazette)
Editorial
4. What They're Saying
1 Boss Thing
5. Springsteen Postpones September Shows, Citing Doctor's Advice Regarding Ulcer Treatment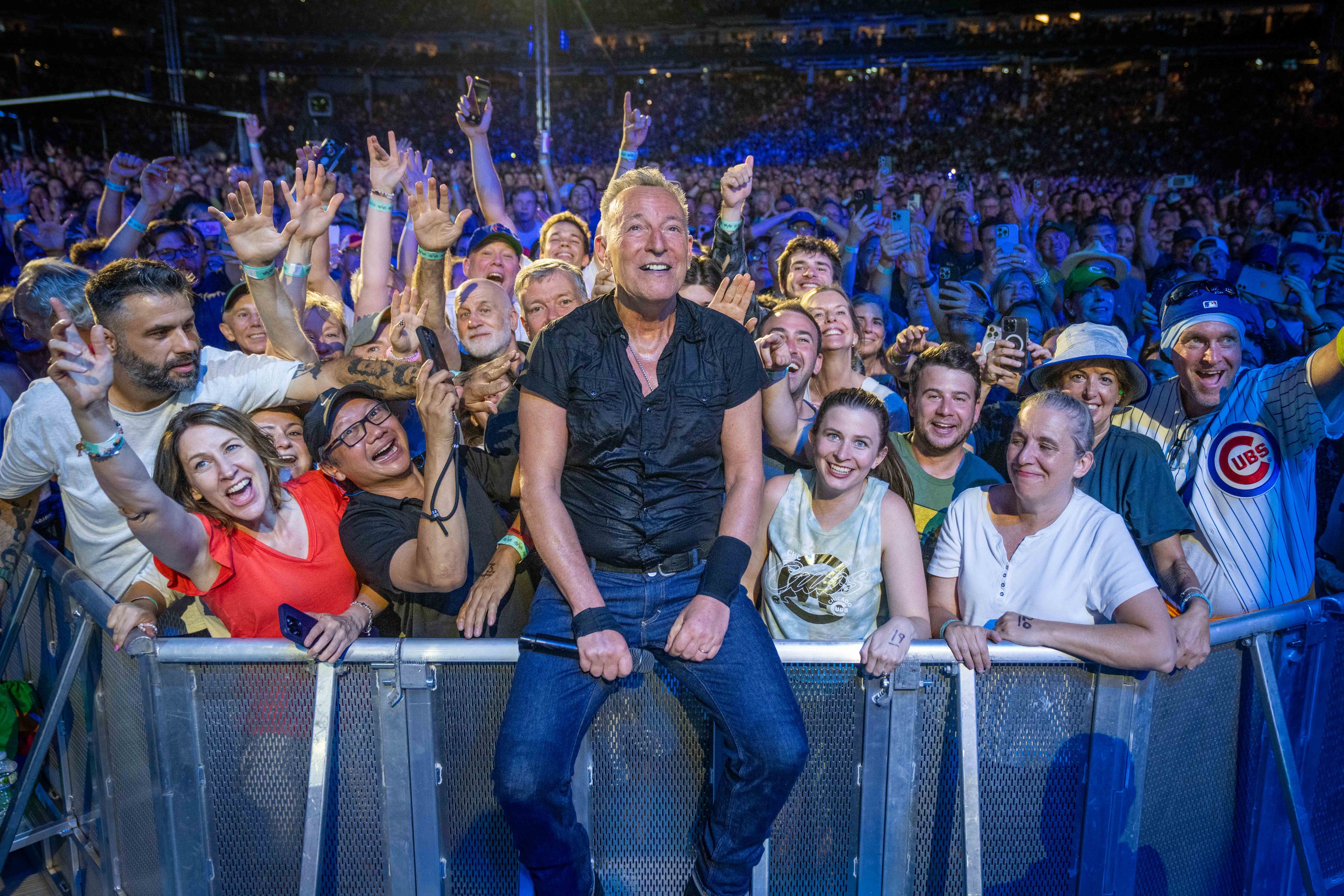 "The Boss is taking an unexpected breather and postponing his September shows, citing doctors' orders.
Bruce Springsteen announced on his website Wednesday that he was postponing shows for the remainder of the month while he is treated for symptoms of "peptic ulcer disease."
The postponed shows included scheduled stops in Baltimore, Philadelphia, Albany and Syracuse in New York, Pittsburgh, Washington, and shows in Connecticut and Ohio." (AP)
Thanks for starting your day with us.
Please invite your colleagues
to subscribe to the PoliticsPA Playbook