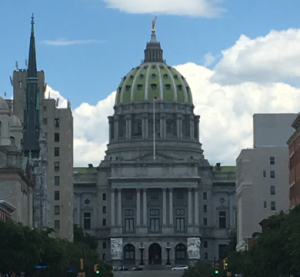 Casey and Rothfus find themselves in Roll Call's 10 most vulnerable, while the PA Dems announce that Rep. Hakeem Jeffries will headline Keystone Dinner. Here is the Playbook.
PA10: Scott's 1st TV Ad Highlights Background: The Democratic candidate believes corporations and billionaires are poisoning our democracy.
Rep. Hakeem Jeffries to Speak at PA Dems Keystone Dinner: Chairwoman Nancy Patton Mills will preside over the meeting.
New Attack Ad on Wagner: American Bridge 21st Century, progressive Super PAC supporting Democratic candidates, released a minute long social media ad dubbing Wagner as a Bully.
Legislative Election Update:
SD-38: Internal poll shows Democrat state Senate nominee Lindsey Williams with a 9-point lead over Republican Jeremy Shaffer. The GOP nominee defeated incumbent state Sen. Randy Vulakovich (R-Shaler) in the May primary.
HD-182: James McDevitt, who is also known as Jimmy Mack, is officially on the ballot as an independent running against incumbent Democratic Rep. Brian Sims. McDevitt describes himself as a "Berniecrat socialist with more fiscal responsibility."
Don't see news from your campaign, or an article from a local news outlet in our legislative elections list? Add press@politicspa.com to your list and send us your updates!
Harrisburg & DC
Citizens Voice: Wagner: State's economy is lagging behind
Philly Clout: Accused State Sen. Daylin Leach lashes out at rape survivor who called on him to resign
Inquirer: In wake of Pa. grand jury report on Catholic clergy abuse, multiple states launch investigations
WHYY Newsworks: Bucks congressional candidate sought ambassadorship after donating to Obama
AP: Former Pennsylvania bishop denies misconduct allegation
AP: Report: Pennsylvania Consumers Saved More Than $30 Billion over 10 Years from Lower Natural Gas Prices
Roll Call: The 10 Most Vulnerable House Members in 2018 List Remains All-Republican
Roll Call: The 10 Most Vulnerable Senators in 2018: Heidi Heitkamp Moves to Top Spot
StateImpactPA: As public concern on PFAS rises, EPA urged to set enforceable health standard
PLSReporter: Wetzel talks prison lock down, K2 and more
PLSReporter: House leadership discussing rule changes on harassment as legislative fix looks uncertain
WESA: Before Roe: How Pa. hospitals used a legal loophole to provide abortions
KYW Newsradio: Number of refugees entering US drops drastically, advocates say
Pittsburgh Business Times: Here's why an overhaul of Pennsylvania's tax structure is overdue, new report says
PhillyVoice: President Trump will be in Pennsylvania next week for a 9/11 memorial ceremony
WESA: How A Supreme Court Case From Pennsylvania Changed Abortion Access Across The Country
KDKA: Gov. Wolf Pushes For Campus Safety Legislation
Post-Gazette: Governor doles out goodies for Allegheny County projects     
The Times Leader: Wagner details economic vision in Mountain Top campaign stop
PennLive: Introducing 'The PennLive Five': 5 Questions, 5 Minutes with Attorney General Josh Shapiro
PennLive: Analyst: Six weeks out from Election Day, Dems have narrow chance to capture Senate | Friday Coffee
Morning Call: Wake-up Call: Pa. governor's race is getting lively
Philadelphia
Philly Clout: Accused State Sen. Daylin Leach lashes out at rape survivor who called on him to resign
Inquirer: 'The Arena' comes to Philly looking for candidates — left, right, and center
Philadelphia Magazine: A Gay "Berniecrat Socialist" Announces Surprise Run Against Brian Sims
KYW Newsradio: A year into Amazon's second headquarters search, still no hints on Philly's bid
KYW Newsradio: Philadelphia Police Department launches initiative to get people off the block, into jobs
KYW Newsradio: Number of refugees entering US drops drastically, advocates say
KYW Newsradio: With sweetened beverage tax suit settled, city moves forward with expansion of pre-K program
Philadelphia Business Journal: Amazon hiring in cities it shortlisted for HQ2. Guess who's last?
SEPA
WHYY Newsworks: Bucks congressional candidate sought ambassadorship after donating to Obama
Pottstown Mercury: Pottstown facing $1.1M pension hike in 2019
Bucks County Courier Times: Council Rock spending another $14,500 for staff diversity training
Montgomery Media: Large crowd opposes Lower Salford rezoning request; continuance granted
Bucks Local News: SEPTA joins state, county and local officials in cutting the ribbon on $5M Yardley Station Improvement Project
Daily Local News: Local lawmakers urge passage of domestic violence bills
Daily Local News: Dinniman marks Childhood Cancer Awareness Month
Pittsburgh
WESA: New Local FBI Head Plays Down National Controversies Like Clinton Emails, Russia Investigation
AP: Ex-police chief settles suit claiming wrongful firing
City Paper: Protesters want Pa. senators to hold vote for Supreme Court nominee Brett Kavanaugh until after midterms
KDKA: Vandergrift Borough Council: Late Officer's Banner Is 'An Insult To Veterans'
Post-Gazette: Pitt names new senior vice chancellor, chief financial officer     
Post-Gazette: Governor doles out goodies for Allegheny County projects
Tribune Review: Union workers at all 3 U.S. Steel mills in Western Pa. ready to strike
Tribune Review: Carnegie council to vote next week on food truck ordinance
Tribune Review: Confusion surrounding Monroeville Council seat cleared up in court
SWPA
Johnstown Tribune-Democrat: Prisons brace for different smuggling tactics in wake of crackdown
Johnstown Tribune-Democrat: Fentanyl 'elevating the game' for overdoses, official says
Johnstown Tribune-Democrat: Former Central Cambria superintendent surrenders certifications, ability to teach in Pennsylvania after complaint filed
Observer-Reporter: Greene County commissioners approve security grants for school districts
Beaver County Times: County commissioners plan to add chief of staff position
NEPA
Times-Tribune: Hundreds gather to remember federal judge at courthouse named after him
Citizens Voice: Wagner: State's economy is lagging behind
Times-Tribune: Lackawanna County seeks dismissal of lawsuit aiming to force reassessment
The Times Leader: Wagner details economic vision in Mountain Top campaign stop
South Central
LNP | LancasterOnline: Diocese receives misconduct allegation against former Harrisburg Bishop Kevin Rhoades
PennLive: Harrisburg-area family breaks silence on sex abuse by priest, gives TV interview
PennLive: Female workers were deliberately underpaid at central Pa. store, feds claim
PennLive: Harrisburg community and economic development director resigns
PennLive: Introducing 'The PennLive Five': 5 Questions, 5 Minutes with Attorney General Josh Shapiro
Lehigh Valley
Morning Call: Wake-up Call: Pa. governor's race is getting lively
Morning Call: Four priorities for Pennsylvania lawmakers: The clock is ticking, get to work
Morning Call: DA details plan to help curb college binge drinking
Reading Eagle: Berks groups support bill that would separate abusers from guns faster
North by Northwest
Centre Daily Times: A Centre County judge had a DUI last year. Now he wants to end his rehab program early
Williamsport Sun-Gazette: Commissioner: 'Discretion' key in adding, subtracting Lycoming County positions
Williamsport Sun-Gazette: City Council, finance committee evaluate bill payment options
Erie Times-News: Erie lawyer Lanzillo picked as federal magistrate judge
Opinion
Meredith Edelman: What the Catholic Church could learn from Australia's response to child sexual abuse
Will Bunch: President Trump is not well. Congress must curb his power to start a nuclear war. The fate of the earth depends on it
Patrick T. Harker: Boosting regional economy requires cooperation across state lines
Inquirer Editorial Board: Was youth in Glen Mills subjected to cruel and unusual punishment?
Jenice Armstrong: Kudos to SW Police Division for taking much-needed jobs to street corners
Delco Daily Times Editorial: The 'Gentleman' political leader: Tom Judge Sr.
Post-Gazette Editorial Board: Bishop Sleaze: Someone should teach this man some respect  
Post-Gazette Editorial Board: A debate for all: A father's grief cannot limit the conversation
Post-Gazette Editorial Board: Focus on the U.S.: Trump's tweet about S. Africa farmers was wrong
Tony Norman: Every act of resistance should have a byline