Sestak Says JoePa Didn't Get "Due Process" (With Video)
By Keegan Gibson, Managing Editor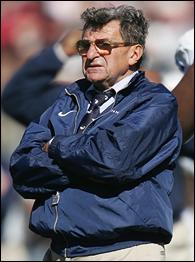 While other political figures are distancing themselves from now-former Penn State football coach Joe Paterno – Sens. Bob Casey and Pat Toomey have rescinded their nomination of JoePa for a Presidential Medal of Freedom – former Congressman and 2010 Senate candidate Joe Sestak is doubling down – sort of.
Sestak during an interview on Fox News that he thought PSU's Board of Trustees hadn't handled the situation well.
"Before you throw somebody away, due process should be done – at least an investigation. Both have failed to do that," Sestak repeated on twitter this morning.
Penn State's Board of Trustees last night fired Paterno as well as University President Graham Spanier. Though neither face any charges, they have been found guilty in the court of public opinion of looking the other way as former defensive coordinator Jerry Sandusky sexually abused at least 8 minors.
The comments unleashed a firestorm of negative reactions on Sestak's facebook page – and not just from David Diano.
"I had respect for you until you posted this, joe. There has been an investigation and he was covering up for a sexual predator," wrote one commenter. "Don't be a scumbag. Embarrassed I voted for you."
"Joe, I'm shocked. Would you have allowed this under your command. I'd like to think you wouldn't," asked another.
Sestak's social media updates stem from this interview he gave on Fox News today:
Watch the complete interview, which mainly focuses on the presidential campaign and the congressional super committee, here. The Washington Post has already picked it up.