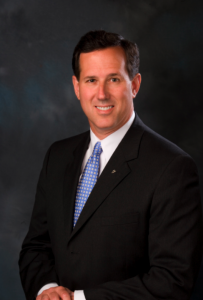 This one has been making the rounds of conservative activists.
After a PPP poll earlier this week showed Gov. Tom Corbett's approval rating in negative territory, one conservative critic warns that the GOP is heading for a repeat of 2006.
That's the year former Rick Santorum lost to Bob Casey by 17 points – one of the biggest defeats ever of a sitting Senator.
"Today, Gov. Corbett has much worse numbers than former U.S. Sen. Rick Santorum did at this point in 2005," wrote Ryan Shafik, referring to a survey from Quinnipiac. "Consider: In Feb. 2005, Santorum had an Approval/Disapproval rating of 52% – 31%. In contrast, Governor Corbett's Approval/Disapproval rating is at 38% – 52%. Santorum's approval was + 19 points, while Corbett is underwater at minus (–) 14 points."
Shafik is the principal at Rockwood Strategies and a full time, anti-establishment troublemaker in the GOP. He's also part of the brain trust for Bruce Castor, the Montgomery County Commissioner who has floated a primary bid against Corbett.
Castor and his supporters are hoping to diminish Corbett's enormous incumbency advantage by making the case that he is the less electable candidate.
Several other Republican operatives dismissed the connection.
The PPP survey was done of Pa.'s registered voters (as opposed to likely voters), using a 48 percent to 38 percent margin of Democrats to Republicans. Thus those numbers are likely to present a more favorable landscape for Democrats than Pa.'s voting history suggests.
"These guys are barking up the wrong tree. 2006 was a Democrat wave year," said one veteran GOP consultant. "The mid-term election during a president's second term is always better for the other party."
In 2014, President Obama will be nearing the end of his second term and if history is a guide, it will be a good year for Republicans overall.
Additionally, that same 2005 Quinnipiac survey showed Casey five points ahead of Santorum. The son of a former Governor and a statewide official, Casey was far more competitive out of the gate than any of the candidates who appear interested in challenging Corbett in 2014.
As a side note, former DEP Secretary John Hanger's campaign also seized on the PPP numbers, noting that he was in a statistical dead heat with Corbett (41 percent to 37). "Hanger is also in front of other potential candidates including former Congressman Joe Sestak, Congresswoman Allyson Schwartz, Treasurer Rob McCord and businessman Tom Wolf who all trail the governor by 6 to 12 points," his campaign noted.
Here's the full Shafik memo: