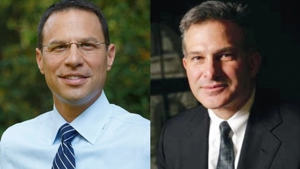 Well, that didn't take long. Actually, it's a bit of surprise this didn't come sooner.
The campaigns of Josh Shapiro and Stephen Zappala, each seek seeking the Democratic nomination for Attorney General, got into their first tussle this week.
It began on Wednesday when former Governor Ed Rendell endorsed Shapiro and Zappala's Campaign Manager Marty Marks shot back at the Montco Commissioner.
"No endorsements can obscure the fact that Josh Shapiro is fundamentally flawed for this particular office," Marks responded. "He is a full time politician and a part time lawyer who has never tried either a criminal or civil case in court. That is a glaring deficit for someone running to be the top legal representative and law enforcement officer in the state and we look forward to that debate."
Brad Bumsted and Aaron Aupperlee of the Tribune-Review then reached out to Zappala to ask about his courtroom experience.
"Reached by phone while campaigning in Scranton, Zappala acknowledged that he has not tried a criminal case during his 18 years as district attorney," Bumsted and Aupperlee wrote. "He said he handled criminal cases as a defense attorney early in his career and worked civil cases before being appointed district attorney in 1998. He supervises 118 lawyers and directs their prosecutions."
"I certainly know the criminal side of it, and I think I know the civil side, too," Zappala told Bumsted and Aupperlee. "I have more than sufficient background to address any of the matters that come through the (attorney general's) office."
The Shapiro campaign jumped on the Allegheny County DA's admission.
"I guess Stephen Zappala's campaign forgot to check his own record," Shapiro Campaign Manager Joe Radosevich stated. "Strikingly, Zappala launched this attack without mentioning that in 18 years as District Attorney he has never personally been in the courtroom to try a case."
PoliticsPA reached out to Marks, who sent the following statement:
"District Attorney Stephen Zappala will bring unprecedented legal experience to the office of Attorney General, including thirty five years trying cases and leading prosecutions. Steve supervises more than a hundred frontline prosecutors working simultaneously in 16 courtrooms and 50 District Magistrate offices every day. He oversees hundreds of criminal and civil investigations each year and personally runs Allegheny County's Grand Jury. Steve will use his experience to ensure that working and middle class families have an experienced legal voice who won't be drowned out by corporate special interests who can afford to hire an army of lawyers."
In response, the Shapiro campaign sent over their own rebuttal: "The fact is, in 1999 after he was appointed District Attorney and again this week Stephen has acknowledged that this is a management position. In 1999 The Post-Gazette wrote:  'By his own admission, Zappala's court appearances were rare. However, Zappala said he brings to the job the skills of an administrator that are essential to an office with 210 employees and a budget of $9.4 million. He likens his job to that of a chief executive officer.'"
Other Democratic candidates for Attorney General include Northampton DA John Morganelli and possibly incumbent Kathleen Kane.