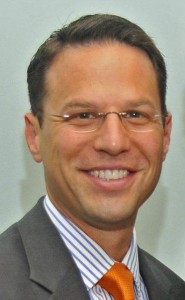 It's still unclear whether Montgomery County Commissioners' Chairman Josh Shapiro will seek a shot at a Senate seat in 2016. But he will be taking on a new role within the state's government.
Shapiro will become the new Chair of the Pennsylvania Commission on Crime and Delinquency, Gov. Tom Wolf announced Wednesday.
Established in 1978, the PCCD represents a joint effort of public officials and private citizens and works closely with the Governor's office on matters of criminal and juvenile justice. According to the press release announcing Shapiro's appointment, the PCCD's mission is "to enhance the quality and coordination of criminal and juvenile justice systems, to facilitate the delivery of services to victims of crime, and to increase the safety of our communities."
"I am proud to announce Josh Shapiro as the Chairman of the Pennsylvania Commission on Crime and Delinquency and am confident in his ability to improve communities through his new position," Wolf said in a statement. "I commend him for his service and look forward to the future progress of this commission under his strong leadership."
Shapiro has been a Montgomery County Commissioner since 2011 and has held the position as Chair since 2012. His prior experience with justice issues includes leadership on the State House Judiciary Committee during his seven-year term as a State Representative for the 153rd district.