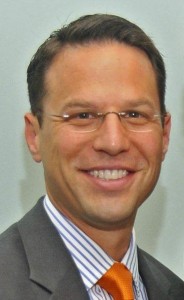 Montgomery County Commissioner Josh Shapiro is a rising star in Pa. politics, but he won't seek a promotion this cycle. He's taken a pass on bids for Governor and Congress and instead announced the formation of a statewide PAC.
The initiative, named Keystone Reform, promises to "bring our brand of commonsense reform and pragmatic progress to other counties, cities and across the Commonwealth."
Shapiro's new group also plans on playing a role in future elections and to "spread the ethic of good government" through grassroots efforts through the organization.
"People throughout the Commonwealth have seen the progress we've made in Montgomery County and are hungry for the same approach to help reform both Harrisburg and Washington," he said. "Our governing model is based upon an agenda of real reform, fiscal responsibility and cooperative governing that is delivering real results."
Shapiro was often named as a potential candidate for Governor in 2014 and for Rep. Allyson Schwartz's seat in Congress in PA-13. Though he took no steps toward a run for higher office in 2014, Shapiro also did not rule out either campaign until this week.
In addition to the lofty goal of boosting political pragmatists in the Democratic party, the PAC is a way for Shapiro to expand his brand, continue to raise money, and build political alliances.
If Gov. Tom Corbett is re-elected in 2014, Shapiro will be among the first in line for the Democratic nomination in 2018.
Shapiro lead the Democratic ticket to a commission majority after 150 years in the minority in Montgomery County in 2011. He previously represented the 153rd district in the PA State House.