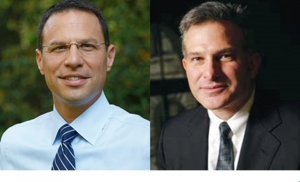 Yesterday, Attorney Candidates Josh Shapiro and Stephen Zappala gained the support of prominent Democratic leaders throughout the Commonwealth.
The support for Shapiro came from State Senator John Blake (SD-22) and State Representatives Mike Carroll (HD-118) and Eddie Day Pashinski (HD-121) as well as former State Reps. Jim Wansacz (HD-114) and Kenneth Smith (HD-112). Additionally, Attorney Todd Eagen threw his support in Shapiro's direction too.
"I first met Josh Shapiro when we served together on Pennsylvania's Tobacco Settlement Investment Board (TSIB) in 2008. I was immediately impressed and I came to know and respect him for his abilities and his moral compass. As we have learned over the past several years, our Attorney General must be more than a good lawyer, but also a good manager and administrator. We need Josh Shapiro as Attorney General because he has all of these qualities," said State Senator John Blake.
"Josh will use every tool available to take on criminals and any powerful interest on the wrong side of the law no matter who or where they are in this state. The Attorney General has a lot of responsibilities. That's why we need a leader with integrity and broad experience to partner with us – and that's Josh Shapiro," added the Senator.
Commissioner Shapiro also gained some union support from the Pennsylvania Nurses & Health Professionals.
"Josh has the integrity and experience to stand up to the powerful interests and make sure everyone gets equal protection under the law," said PASNAP President Patricia Eakin, RN, BSN, CEN. "From cracking down on polluters who undermine public health to ensuring workers can do their jobs in a safe environment, Josh will be the people's attorney."
"I'm honored to have the support of nurses and health professionals who protect Pennsylvania's patients every single day," said Shapiro. "As Attorney General, I'll fight to protect the people of Pennsylvania by protecting seniors from scam artists, enforcing our labor laws so that everyone receives equal work for equal pay and aggressively pursuing corporations that sell dangerous products."
With this list of endorsements announced, Shapiro is comfortable enough to proclaim that he is the current front runner in the race for Attorney General. But, Commissioner Shapiro was not the only candidate announcing key endorsements yesterday.
Zappala
Allegheny County District Attorney Stephen Zappala gained the support of United Ward Leaders of Color as well as State Senator Anthony H. Williams (SD-8); Philadelphia City Council members Jannie Blackwell, Bobby Henon, Curtis J. Jones, Jr., Mark Squilla and Philadelphia City Controller Alan Butkowitz; State Representatives Jason Dawkins (HD-179), Rosita Youngblood (HD-198), Angel Cruz (HD-180), Ed Neilson (HD-174) and Mike Driscoll (HD-173).
The United Ward Leaders of Color is made up of African and American and Latino ward leaders and elected officials from approximately 20 wards in Philadelphia.
"Steve has a long record of protecting kids, improving communities and reforming our justice system," said Williams. "For 18 years he's been taking illegal guns and drugs off the streets, improving communities by prosecuting absentee landlords that permit hazardous housing conditions and using the latest forensic science to ensure police get arrests right the first time."
"I am overwhelmed with gratitude for today's endorsements and believe it is evidence of the strength of my candidacy across the Commonwealth," said Zappala. " I look forward to bringing my record of integrity and commitment to justice and fairness to the office of Attorney General."
Earlier this week the Attorney General candidates participated in a forum held by the Philadelphia Bar Association.