The Sierra Club has launched a new television ad in the Scranton media market criticizing Rep. Lou Barletta (R-Luzerne) for the failure to act on the renewal of the production tax credit for wind energy.
The production tax credit provides support for the 75,000 jobs in the American wind industry. However, nearly half of those jobs are at risk if the credit is not renewed.
"House Republicans say we must protect jobs. So why aren't they taking action to renew the wind production tax credit?" the ad says. "Maybe they just don't care."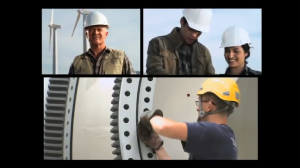 The campaign of Barletta's Democratic opponent, Gene Stilp, echoed the call from the Sierra Club.
"This issue hits a variety of vital concerns. Creating and protecting jobs for Pennsylvanians, stimulating our economy and producing alternative energy sources. This is a bipartisan bill that will be benefit our economy and our environment and we urge Congressman Barletta to support this bill."
With job creation as a crucial issue in November, the pressure is on Barletta. However, Barletta Communications Director Shawn Kelly said a decision on the tax credit will come in due time.
"Rep. Barletta supports an all-of-the-above energy policy. Legislation extending the credit mentioned in the ad is in committees on which Rep. Barletta does not serve. When the legislation goes in front of the full House, Rep. Barletta will carefully examine the bill and vote accordingly."
The attack on Barletta is a part of the Sierra Club's Wind Works campaign, aimed at presenting facts through the ad and urging viewers to call Barletta and tell him to act on the credit.
This ad will also run in eastern New Hampshire and Las Vegas, and will relay the same message to Republican leadership there.